History Is a Weapon in China
Those same Chinese authorities who accuse other countries of not respecting history spend considerable energy not respecting or reflecting upon their own.
by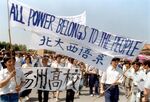 For China's autocrats, history is a weapon. This past weekend, for example, a Chinese general told Southeast Asian nations that their territorial claims in the South China Sea were irrelevant because "China has had indisputable sovereignty over the South China Sea for around 2,000 years," reported the state-owned CCTV network. Don't like it? Then learn to "respect history" as China's Defense Minister told his Vietnamese counterpart in late May, after Vietnamese protesters turned violent in response to Chinese incursions into what Vietnam considers its territory. In this context, history is the rhetorical equivalent of a dismissive wave of a hand that brings an end to a pointless conversation.