ECB's Weak Medicine Won't Heal Europe
ECB President Mario Draghi needs something special this week -- concrete plans to unleash his long-promised bond-buying program, perhaps -- to prevent his deflation promises sounding increasingly empty. 
by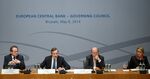 Figures today showing that inflationin the euro area slowed to 0.5 percent in April all but guarantee that the European Central Bank will be reaching into unplumbed corners of the monetary-policy toolbox when it announces the results of its rate-setting meeting on Thursday. The one innovation it will almost definitely implement -- negative interest rates on cash left with the central bank -- will do little to goose lending.