Apple Gives Customers the Stockholm Syndrome
Apple's new announcements show the company is busily building a castle that entices users with bright lights but imposes a cost on leaving.
by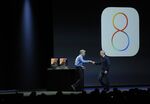 Don't knock Apple Inc. for not showing off, or even promising, any breakthrough devices at yesterday's Worldwide Developers Conference. It is otherwise occupied, building a Disneyesque castle designed to hold its customers captive as long as possible.