Obama Finally Keeps His Promise on Climate Change
Michael R. Bloomberg praises President Barack Obama for new rules, expected from the EPA tomorrow, to limit greenhouse-gas emissions and fight back against climate change.
by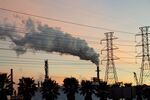 Less than a week before the 2012 election, I endorsed President Barack Obama for one main reason: his commitment to confronting climate change with bold new initiatives. New York City had just come through Hurricane Sandy, and it was painfully clear that rising sea levels and intensifying storms could no longer be ignored in Washington.