India's Newest Media Baron Embraces Censorship
Narendra Modi's corporate cheerleaders are buying up the media.
by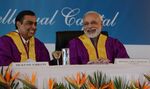 Bold initiatives characterize India's richest man, Mukesh Ambani , who famously lives in a 27-story building in Mumbai, a city where most people languish in slums. Last month, his company, Reliance Industries Ltd. , sought to prevent circulation of a new book which claims that Reliance successfully pressured the previous Indian government to double the price of natural gas. Amazon received a cease and desist notice, as did even an individual who had merely forwarded an e-mail invitation to the book's launch. And Thursday, Ambani moved to buy a whole swath of the Indian media: Bloomberg News reports that Reliance, which has already invested $11 billion in a high-speed cellular network, will now spend $678 million for majority stakes in two major media companies, Network18 Media & Investments Ltd. and TV18 Broadcast Ltd.