Taking Stock of Russian Fighters in Ukraine
Marc Champion responds to readers about the evidence for Russia's leading role in the conflict in eastern Ukraine.
by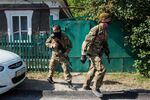 Among the often angry responses from readers to a recent post I wrote from Donetsk about Russia's involvement in the violence in eastern Ukraine, a number included thoughtful questions to which I'd like to respond.

In the piece, I said that at least eight of more than 30 rebels killed Monday in fighting near Donetsk airport were Russian citizens, some of them fighters from Chechnya, the mainly Muslim republic in Russia's North Caucasus region.
Some people asked how I could be sure these were Chechens. The answer is that the mayor of Donetsk said the origin of the eight was determined by their passports, which would have detailed their names and the cities of their birth. In addition, several Western reporters spoke with members of the unit, who said they were Chechens and named the Chechen towns from which they had come.
Others readers asked whether these might not just be soldiers of fortune who went to Ukraine independently. That is possible if unlikely given the way President Ramzan Kadyrov runs Chechnya. But this is what the Financial Times reported from outside the Donetsk hospital:
"Our president gave the order. They called us and we came," one of the fighters, a 33-year-old named Zelimkhan said. He added that the unit was called the "dikaya diviziya," or savage division.
What if Kadyrov sent troops to Donetsk of his own accord, without Moscow's approval? A strategy of deniability is designed to create precisely this kind of haziness. Yet it's not credible that Kadyrov would send fighters to an area as sensitive to Russia as Ukraine, or that he would negotiate the release of Russian hostages there, as he has, without permission from the highest level within Russia's security services or from President Vladimir Putin himself.
As it turns out, the number of Russian citizens who died fighting in Donetsk was much higher than was known when I wrote the post. Alexander Borodai, the recently named prime minister of the self-proclaimed Donetsk People's Republic who is himself a Russian citizen, told Russian state media that not eight but 33 of the roughly 50 dead were his compatriots.
In addition, there has now been what looks like a Russian putsch among the rebel factions in Donetsk. Soldiers from the most disciplined and best armed of the forces, the Vostok Battalion, swept into the Donetsk People's Republic headquarters Thursday and cleared it of its motley, and largely local, civilian administration. The sweep was led by Borodai.
Borodai, a fairly prominent Russian ultranationalist, describes himself as a "consultant" on ethnic conflicts. He acknowledges involvement in Russia's annexation of Crimea, he says as a "political strategist," without saying to whom. He denies working for the Russian government.
Another Russian citizen, Igor "Strelkov" Girkin, is the defense minister of the Donetsk People's Republic. He also played a role in the annexation of Crimea, as a security adviser to the peninsula's new pro-Russian prime minister. He has said he brought fighters from Crimea to Slovyansk, north of Donetsk, which has seen the heaviest fighting in eastern Ukraine. The European Union placed sanctions on Girkin, identifying him as a member of the GRU, Russia's military intelligence agency.
Many responses to my piece asked why I didn't write about reports that among those fighting in Ukraine are U.S. mercenaries from security services provider Academi. I don't automatically discredit those reports. And if Academi is present in Ukraine, then, like Kadyrov, it is unlikely there without an official green light, given its heavy reliance on U.S. government business.
Academi has said that reports of its involvement are untrue, but I give no more credence to that denial than to Kadyrov's. Yet there's far less to go on concerning the Academi allegation, which is based on short video clips of armed, uniformed men apparently in the streets of Donetsk. The clips were uploaded to the Internet in early March and reported on by the British Daily Mail and German Bild newspapers. Bild cited the Russian ambassador in Kiev saying the men were among 300 Academi contractors in Ukraine. However, in the two months since, I am not aware of any new film of purported U.S. soldiers, or of any such individuals being spoken to by a credible news organization, or of any bodies having been identified to confirm their presence.
The clips show men in unmarked U.S.-style uniforms and equipment as they jog past a crowd of pro-Russia protesters. Once the protesters start shouting "Blackwater! Blackwater!" there are scuffles and the soldiers run away. Why U.S. mercenaries would display themselves in this way or approach a crowd of protesters is not obvious.
It may yet emerge that U.S. mercenaries have been sent to Ukraine, but the evidence to date is so bizarre it is best explained as a disinformation campaign: a dozen men dressed in U.S. equipment and filmed so that Russia can claim U.S. mercenaries are in Ukraine, diverting attention from its own involvement.
I don't believe that Russia has full control over the situation in Ukraine, or that there is no local support for the rebels. Indeed there are now so many different militias on the ground, on both sides, a full-scale civil war may be inevitable. Support for secession in eastern Ukraine will rise with every person killed, every home shelled.
Nevertheless, Russia has had, and continues to have, the leading role in stoking this conflict. That now seems to me beyond reasonable doubt.
This column does not necessarily reflect the opinion of Bloomberg View's editorial board or Bloomberg LP, its owners and investors.