view
I Want to Watch Netflix on the Moon
This leap for mankind is a reminder of the significant steps man still has to make to improve Internet connectivity on Earth.
by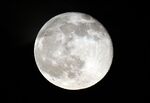 Heads up, earthlings: There is now a Wi-Fi hotspot on the moon.
Researchers at NASA and MIT have managed to beam wireless Internet signals to a satellite orbiting the moon. That's a signal range of 238,900 miles, about the distance it would take to run a wire around the Earth 10 times.
How's the connection up there? Not so shabby. Using four telescopes based in New Mexico, the scientists were able to send data from the Earth to the moon at a rate of 19.44 megabits per second. That's higher than the standard speed, 15 mbps, promised by Time Warner and bounds above Verizon's DSL "High Speed Internet" package of speeds ranging from 0.5 to 1 mbps. (Though as anyone using broadband Internet to stream a show on Netflix from their home knows, "actual speeds will vary.")
I'm all for space exploration, intergalactic connectivity, and astronauts posting selfies. But I can't help but see this leap for mankind as a reminder of the significant steps man still has to make to improve connectivity on Earth.
The Internet speed to the moon based on this demonstration is way faster than the global average connection speed, 3.8 mbps, and the average speeds of most countries, with the exception of South Korea, according to Akamai Technologies.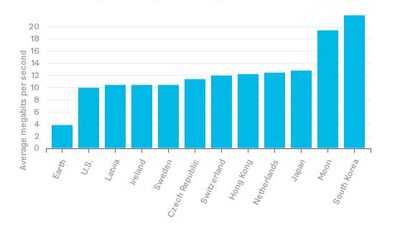 In the U.S., Internet connectivity is slower and costs more than many other areas in the world, and the average speeds in U.S. states lag behind those in some countries in Europe and Asia.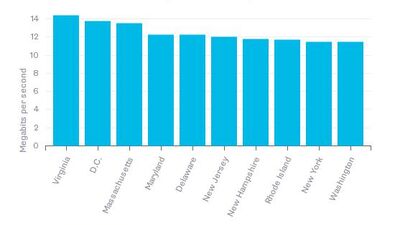 As Bloomberg View has outlined, Congress could help by launching national fiber-optic campaign to compete with the cable industry and provide higher speeds. Many tech companies, including those part of the Internet.org partnership, have also made expanding global Internet connectivity a key goal and are taking steps to improve it. Google's Project Loon launches Wi-Fi balloons, and the company recently acquired drone maker Titan Aerospace to spread connectivity with drones. Facebook is pursuing a similar strategy with Ascenta.
The next step for these companies points to satellites. Maybe one day the moon will be one of the satellites beaming high-speed Internet back down to Earth.
To contact the author on this story:
Kirsten Salyer
To contact the editor on this story:
Toby Harshaw at tharshaw@bloomberg.net
Before it's here, it's on the Bloomberg Terminal.
LEARN MORE