Cold, Hard Facts About Freezers
Deep freezers: upright or chest?
by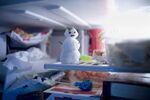 And now on to one of the most important issues of the day. Deep freezers: upright or chest?

That's right, not just one, but actually two foodie posts today. You lucky things, you.
Somehow, I stumbled upon this Gwendolyn Bounds column from 2008 on inexpensive ways to save energy. Naturally, the first item struck my eye:
Chest freezer swap

Why it helps: Chest freezers consume 10% to 25% less energy than comparable uprights because cold air doesn't spill out of the door when opened, according to the Department of Energy. Manual-defrost models use 35% to 40% less energy than comparable automatic-defrost models, which may also dehydrate food, causing "freezer burn."

Cost: $298 for a 10-cubic-foot Energy Star Whirlpool chest freezer at Lowe's.

Savings: My large 1998 upright 20-cubic-foot freezer cost an estimated $77* a year to operate and sat mostly empty. The slimmer new one costs about $30 to run annually.
If you're a financial whiz, I probably don't need to tell you that spending $300, plus tax and delivery, to save $47 a year isn't all that great an investment. And yet, I think that this decision is even worse than the math suggests. In the freezer wars, I'm an unabashed partisan of the upright freezer -- yes, the clunky, energy-hogging upright instead of the dainty, electricity-sipping chest.
Why? Let me count the ways that chest freezers are inferior to upright ones:
They're harder to get into as you get older. Freezers last a long time. They don't get opened and shut much, which means that the compressor doesn't have to work as hard to maintain an even temperature.

Your hands can get really, really cold trying to get to the bottom of a deep freezer. Frankly, it's bad enough in the upright. But it gets really cold down in the bottom of a chest freezer, where the air rarely moves. After you've rummaged around in a chest freezer for five minutes trying to find the deer steaks your brother-in-law brought you last fall, you'll find yourself googling "frostbite."

It's hard to find things. This is why your hands get so cold. Our upright is loosely organized -- frozen meals on top, poultry in the bottom, soups and stews in the door, meat in the middle. You can't do that with a chest freezer. Well, you can, but because you have to haul everything out to get to the stuff at the bottom, most people rarely remember to put it all back in exactly the right order. The result is chaos.

You'll forget about stuff. Every time I got to our upright freezer, I remember about the chilis and soups we should reheat, the meat from the CSA that needs to be cooked and so forth. If I am giving a party, I can survey what we have available and decide what to cook (or decide that we need to go to the grocery store). With a chest freezer, you forget about the deer steaks your brother-in-law brought you until one day you're hunting for the frozen calamari and stumble across the vacuum bags ... now freezer-burned and inedible. Lose a few pieces of meat a year that way, and you've entirely eaten your electricity savings.

Things that aren't boxes or vacuum bags don't store well in it. Oddly shaped containers are hard to fit in, requiring hours of freezer jigsaw to get everything just so. And because they open up gaps between the cold stuff, they reduce the much-vaunted energy efficiency of your chest freezer.

Because of all of the above, you won't use it. You'll think about making a double recipe of chili, popping most of it into convenient single-serve Tupperware and having it ready for busy nights. (Great idea!) Then you'll think about the hassle of dealing with the chest freezer, and you'll decide you'd rather just make a single recipe and throw out the leftovers.

Unless you have very specialized uses -- or live entirely off uniformly sized frozen pizzas bought in bulk -- my rule with freezers is the same as my rule with other appliances: If you're not going to have it where you can see it, then don't buy it. If a pricey motorized gadget isn't living on the counter, then you're not using it enough to justify spending money on it. And if you are using your deep freezer so rarely that you don't mind the hassle of finding things in its murky depths, then you probably don't need a chest freezer; you need a larger selection of takeout menus.
This column does not necessarily reflect the opinion of Bloomberg View's editorial board or Bloomberg LP, its owners and investors.