U.S. Economy Takes Another Sick Day
The economy actually contracted in the first quarter instead of just lying down on the sofa and feeling all mopey and sad.
by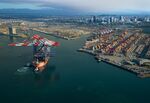 Last month, when the Bureau of Economic Analysis announced that gross domestic product had grown at a lead-footed rate of 0.1 percent in the first quarter, economic analysts could focus on two pillars of hope. The first was that the winter weather was unusually awful, and first-quarter growth probably reflected that. And the second? This was a very preliminary number, and it seemed reasonable to think that it might be revised upward.