Republican Candidates Blur the Lines on Obamacare
As Affordable Care Act becomes established, repeal becomes a more difficult sell.
by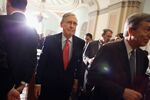 The Affordable Care Act is creating as many problems as opportunities for Republican Senate candidates in the November midterm elections, an indication of the futility of the party's effort to significantly change, much less repeal, the law.
A number of Republican candidates, while they still assail Obamacare, are modifying their positions; others are stumbling over the issue.
The most prominent misstep was by Senate Minority Leader Mitch McConnell, who is locked in a tight re-election race in Kentucky. The usually sure-footed Senate veteran claimed that a repeal of Obamacare, which is unpopular in his state, wouldn't have any effect on Kentucky's own health insurance exchange, Kynect, which is working well and is popular. Yet the state exchanges are completely dependent on the Affordable Care Act as a funding mechanism and as a structure for insurance companies.
Other candidates who call for repeal of the ACA insist they could accomplish this goal while keeping the popular provisions -- such as requiring insurance companies to provide coverage for people with pre-existing conditions and permitting children to stay on their parent's policies until they are 26 -- and killing the unpopular ones, such as the employer mandate and other taxes. Health-care experts, including insurance companies, say that sort of cherry-picking would unravel the entire system.
In North Carolina, Thom Tillis, the Republican candidate for a U.S. Senate seat, has said that Obamacare is a "great idea," but that it "can't be paid for." The Republican Senate candidate in Michigan, Terri Land, who has signed a pledge to oppose any funding for the health-care law, now talks about the pieces of it she supports.
Most remarkable is New Hampshire Republican candidate Scott Brown. He was catapulted onto the national scene in 2010 when he won the Senate seat of Edward M. Kennedy of Massachusetts by running against the Affordable Care Act. He lost that seat in 2012. Now a candidate in New Hampshire, he suggests there are parts of the law he likes, including the expansion of Medicaid benefits for that state's low-income residents.
Republicans point out that polls show most voters are opposed to the law, particularly in the battleground Southern states. Yet few in the party embrace the idea floated by South Carolina Senator Lindsey Graham and others that the party should lay out a specific agenda, including on health care, in preparation for capturing a majority of both houses of Congress in November.
As its benefits become more apparent, the law will become more embedded in the economic, social and political fabric. That makes attempts to replace it politically dicey, which could present a huge dilemma for Republicans if they capture control of the Senate.

This column does not necessarily reflect the opinion of Bloomberg View's editorial board or Bloomberg LP, its owners and investors.