Editorial Board
Shinseki's Resignation Won't Fix the VA
The debate over VA reform is stuck in the familiar rut of more money or privatization. The answer may be both.
by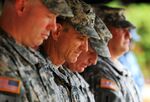 To anyone who's read this week's report by the inspector general for the Department of Veterans Affairs, detailing "systemic" problems throughout the agency, today's resignation of Secretary Eric Shinseki will seem like a reasonable first step toward fixing what ails the agency.
But it's only a first step. The problems that cost Shinseki his job are so severe -- veterans waiting an average of 115 days for their first primary-care appointment at a facility in Phoenix, not the 24 days its staff first claimed, with similar shenanigans used across the country -- that a change at the top will only do so much.
What will? One approach, advocated by Senator John McCain and others, is to give veterans "the right to choose where and when they get their medical care." House Speaker John Boehner has called for privatizing the VA, and House Veterans Affairs Chairman Jeff Miller wants the agency to pay for veterans to get private care if they wait more than 30 days for VA care.
Veterans groups counter that the VA is uniquely suited to deal with their health needs, such as trauma-related injuries, prosthetics and mental health. They argue the influx of new veterans following the wars in Iraq and Afghanistan means the agency's health-care services need more money, and they warn that diverting resources would put that care at risk.
The best way forward is to combine the two approaches: Strengthen the VA's ability to do what it's good at and widen veterans' access to services that don't demand its expertise.
To start, that means differentiating between primary and specialty care. The inspector general's report focused on wait times for primary care, suggesting that's where the most pressing shortage is. If so, the VA could address much of the problem by paying for primary-care visits with private doctors when timely appointments aren't available at its own facilities.
Veterans would continue to rely mostly on VA doctors for specialty care. Congress should ensure those specialists are available by providing more funds where they're needed.
For this to work, effective cost control will be crucial. The VA could save money by building a network of civilian health-care providers. Tricare, which provides health benefits to some retired military personnel, pays for outside care when appointments aren't quickly available at military facilities. And it controls costs by imposing maximum allowable charges through its network of outside providers.
Because the VA serves so many veterans, building a similar network might be a slow and daunting task. There's an alternative -- another government-run health-care program with excellent cost management and a nationwide network of participating physicians. It's called Medicare. If the VA can't offer prompt care, veterans could be given access to Medicare's network of primary-care providers, reimbursed by Medicare at Medicare rates, with the VA covering the cost.
The VA has let veterans down. Firings and resignations won't put things right -- even though, as in Shinseki's case, they will be necessary. Better to honor veterans by embracing new ideas for their care.