Will Mark Zuckerberg Be Big in Iran?
Mark Zuckerberg is not coming to Iran on court orders, but his companies are making inroads there as President Hassan Rouhani seeks to slacken Internet censorship.
by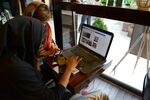 If you've seen the news report that Facebook founder Mark Zuckerberg is being summoned to an Iranian court, don't worry. He's not. That said, Zuckerberg's virtual presence in the Islamic republic is growing stronger.

Iran's official mouthpiece, IRNA, dismissed the report -- run by student agency ISNA and picked up by Reuters -- that an Iranian judge had summoned the "Zionist director of the company of Facebook" to answer for privacy violations committed by WhatsApp and Instagram. True, Iranian courts have received complaints about the two Facebook companies being used for the "publication of unethical images." But Iran's reformist President Hassan Rouhani is heading in a more liberal direction: If he has his way, Iran will go from being one of the five "state enemies of the Internet," according to Reporters Without Borders, to joining the ranks of moderate Internet censors such as Turkey and Russia.
"We must recognize our citizens' right to connect to the World Wide Web," Rouhani said this month. "Why have we cowered in a corner, grabbing onto a shield and a wooden sword, lest we take a bullet in this culture war? Even if there is an onslaught, which there is, the way to face it is via modern means, not passive and cowardly methods."
The scope and methods of Iran's Internet censorship are particularly nasty. According to a study by J.Alex Halderman of the University of Michigan and two Iranian collaborators, who did not disclose their real names, home users' bandwidth is limited to 128 kilobits per second, making it hard to watch streaming video or even listen to music. At times of political or economic unrest, connection speeds to specific sites such as Gmail are further throttled. Site names to which users seek access are filtered by keyword, with the list of banned words constantly growing to include not only adult sites but also politically dangerous ones. In the run-up to the 2013 presidential election, more than 50 percent of the world's 500 most visited sites, including Facebook, YouTube and Google Plus, were unavailable in Iran. The authorities make an effort to block anonymity tools such as Tor, and are not above spreading virus-infected versions of privacy software.
Halderman's study concluded that much of the censorship is conducted through a centralized system, whose capacity "may be a key bottleneck" in the state control infrastructure. This is the "shield and wooden sword" Rouhani mentioned. According to a recent IRNA report, he is "dissatisfied with the current speed (bandwidth) of the internet service available in the country." He maintains an Instagram account -- one of the most boring ones I have ever seen, but it's a start. He also has a Twitter account, and Foreign Minister Javad Zarif is on both Facebook and Twitter.
Conservatives reject Rouhani's embrace of the Internet. "Unfortunately a number of Iranian officials are actively using Facebook. I kindly urge them to stop doing so because this action clearly violates state rules with regard to Internet filtering system in the country," said Ruhollah Momen-Nasab, an official from the Ministry of Culture and Islamic Guidance who also appeared in the erroneous ISNA report.
Like Russian President Vladimir Putin and Turkish Prime Minister Recep Tayyip Erdogan, Rouhani sees the Internet as a devilish American contraption meant to undermine regimes unfriendly to the West. Putin and Erdogan believe its power can be harnessed to their governments' needs. Rouhani is trying to make sure Iran progresses to that point of view from the even more obscurantist one that dominated before he came to power.
As Rouhani recently said, according to IRNA, "a new global family is taking shape and the users of cyber space are the family members."
This column does not necessarily reflect the opinion of Bloomberg View's editorial board or Bloomberg LP, its owners and investors.