Why Airlines Don't Want You to Know How Much Your Bag Costs
Last year U.S. airlines raked in $3.35 billion in baggage fees that they did not disclose when they advertised their fares. The practice is perfectly legal, but it shouldn't be.
by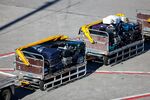 Last year U.S. airlines raked in $3.35 billion in baggage fees that they did not disclose when they advertised their fares. The practice is perfectly legal, and one that airlines, currently enjoying record profitability, argue does not harm consumers. The Department of Transportation disagrees, and last week it issued a rule that would force airlines to start advertising baggage fees along with their fares -- much to the carriers' fury.
The problem certainly needs tackling. Consider what happens when I try to buy a round-trip ticket between Minneapolis and Chicago. Delta's website (Delta is the largest carrier in Minnesota) informs me that the fare is $408 and "Final baggage fees will be assessed and charged at time of check-in." So that I can calculate the total price, including checking two bags, and compare with other airlines, I go to the Delta home page, click the "Traveling With Us" menu, then click the "Baggage" menu, then click the "Checked Baggage" link beneath the "Before Your Trip" menu. Still in search of a concrete figure, I scroll down and click the "Guidelines and Fees by Country" link, where -- among 14 different geographic baggage permutations -- I learn that for flights within the U.S. and Canada the first bag will cost me $25 and the second is $35.
Things don't become much easier if I buy from a travel website like Expedia instead. (Such sites account for roughly half of all airline tickets sold in the U.S.) There, the now $452 fare includes the following utterly unhelpful baggage information:
Carry on: No fee
1st checked bag: No info
2nd checked bag: No info
More info
I click on "more info" and that leads me to a page that Expedia says includes "the most up-to-date information we have on baggage fees collected by each airline," which -- in the case of Delta -- consists of: "Carry-on bag: No fee. 1st checked bag: No info. 2nd checked bag: No info." In other words: go back to Delta's website, start clicking, and good luck comparing the total cost of flying with two bags on different airlines.
Of course, some airlines do better than others. (Just before ticket purchase, United offers a diminutive link that opens a popup requiring I input my itinerary and dates, but which in the end provides the baggage fee.) Still, it's no surprise that the airlines prefer the current murky system, which discourages comparison shopping.
The new DOT proposal would require that airlines disclose fees for first and second checked bags, carry-on items, and advance seat selection "at the point in which fares are being compared." In addition to advertising it on their own sites, the airlines would also be required to provide this information to agents, including travel websites like Expedia (the rule includes several other, consumer-friendly proposals). The proposal, if adopted, likely wouldn't go into effect before 2015.
The industry's opposition is predictable and part of a pattern. In March, for example, airlines lined up behind the cynically named "Airfare Transparency Act of 2014," a House bill that would overturn a 2012 Department of Transportation rule requiring them to advertise total fares -- base fares, plus taxes. As I noted on May 9, the act (which has already passed a key House committee) would allow airlines once again to advertise a $300 fare, say, that actually costs far more once taxes and fees are added.
"Today's travelers want to know what they are paying for," noted an industry spokesman in April, apparently without irony. That's true -- and it's a good reason to drop efforts to limit fare transparency, and to support the DOT's proposal to give consumers the information they need and deserve.
This column does not necessarily reflect the opinion of Bloomberg View's editorial board or Bloomberg LP, its owners and investors.