We Have Obamacare and Still Don't Like It
Even the people Obamacare is designed to help aren't yet sure it's a good idea.
by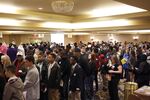 Even the people Obamacare is designed to help aren't yet sure it's a good idea.
That's the implication of a poll out today from Bankrate, which found that just 18 percent of respondents making less than $30,000 a year say their health insurance situation is better than it was 12 months ago. Among those making $30,000 to $50,000, just 17 percent said their situation was better. The share of part-time workers who said the same was also only 17 percent. Among the unemployed it was just 12 percent.

The numbers didn't get any better when respondents were asked whether Obamacare has had a "mostly positive" or "mostly negative" impact on the country. Predictably, 73 percent of Republican respondents said mostly negative. But the lowest earners were evenly split on whether the law was positive, and part-time workers were twice as likely to say the law's effects were negative as positive.

What makes these latest figures puzzling is that when the survey was taken in mid-May, coverage would already have started for the great majority of the 8 million people who signed up on the Affordable Care Act's state insurance exchanges. The same goes for the 3 million people newly enrolled in Medicaid.
As a share of the total population, those numbers are small. But the law's coverage provisions -- expanding Medicaid for those up to 138 percent of the federal poverty line, and subsidizing premiums on the insurance exchanges for those making up to 400 percent of poverty -- aren't aimed at the total population. They're aimed at the very people who now report being mixed, or worse, on whether the law is good for them and the country.
(Another group the law was meant to help -- young Americans, who can now stay on their parents' insurance until age 26 -- are also cold toward it, with just 30 percent of respondents age 18 to 29 calling it mostly positive and 36 percent mostly negative. But that may just reflect that millennials hate being told what to do -- in this case, have insurance.)
The easy interpretation of this data is to conclude that Republican opposition to Obamacare, and the millions of dollars spent attacking it, has left Americans with a negative impression that's hard to overcome, even if their own experience is positive. There's probably some truth to that.
But that explanation only works for so long. There's another, more pessimistic reading of these responses: that the coverage newly available under Obamacare is still too expensive, with cost-sharing that's too high, for many people to say it has made their lives better.
It's too soon to reach that conclusion. But it's not enough for the chattering class to conclude that Obamacare is a good idea. At some point, for the law to be judged a success, the people it's meant to help will need to agree. That point seems to be taking a long time to reach.
This column does not necessarily reflect the opinion of Bloomberg View's editorial board or Bloomberg LP, its owners and investors.