view
Valeant's Hostile Allergan Bid Keeps Getting More Hostile
by
Here is a thing that I guess you do when you're trying to fend off an acquisition proposal: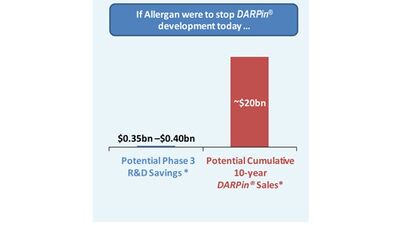 That's from a May 12 presentation by Allergan, which is trying to fight off Valeant's unwanted attentions. There are two points here. The narrow point is: If notable cost-cutter Valeant gets its hands on Allergan, it will short-sightedly cut off development of DARPin (it's a drug or something 1 ) to save $350 or $400 million, giving up $20 billion of potential revenue. Revenue that would have accrued to Valeant shareholders, who will -- if Valeant completes its cash-and-stock acquisition -- include a lot of former Allergan shareholders who will mourn their lost $20 billion.
The broader point is: We make smart decisions for the long-term health of the business, unlike these dopes at Valeant, who can't even tell that that big red bar is 50 times bigger than that little blue bar. Dummies!
And that might be the nicest thing that Allergan has said about Valeant recently. Here is yesterday's delightfully nasty Allergan presentation about "Certain Potential Business Risks And Issues With Valeant Pharmaceuticals International, Inc.," 2 in which Allergan sort of nudge-and-winkingly accuses Valeant of accounting and tax aggressiveness and running an unsustainable business and then on page 19 just straight up comes out and says, Are they Tyco? What if they're Tyco? Did you ever think they might be Tyco? It is strong stuff, enhanced by Allergan's rather theatrical hiring of "two nationally-recognized financial consultants and forensic accountants, Alvarez & Marsal and FTI Consulting," to look at Valeant's books, forensically. 3
And here is Valeant's response. I mean, here is its long weird presentation responding to Allergan's charges, with lots of pictures and personal testimonials by Valeant executives, I guess meant to convey that none of those people would ever trade a giant red bar for a tiny blue bar, and that they're personally affronted by all the tax and accounting innuendos. 4
But its substantive response was to raise its bid for Allergan -- from $48.30 in cash plus 0.83 Valeant shares to $58.30 and 0.83 shares -- and to throw in a contingent value right keyed to the value of DARPin:
[Here's] a new CVR related to DARPin® sales which would provide up to approximately $25.00 per share of additional value based on the approximately $20 billion in potential cumulative 10-year DARPin® sales referred to in your May 12th presentation. We are prepared to fund up to $400 million to develop DARPin® and will pay 40% of the net sales of DARPin® referred to in your May 12th presentation after recovery of our shareholders' investment in DARPin® development expenses. ... We would propose to retain Allergan employees to continue development of DARPin® and will ask Allergan to provide us a list of eight independent scientific and business leaders. From these eight, we will select five to oversee DARPin® development and decide on all go / no-go decisions as the compound progresses. We will work with Allergan's board and management to finalize the details of the CVR.

Ha! The general theory of a CVR is that it's meant to bridge a valuation gap between the buyer and the seller: The seller thinks a business is worth $20 billion, the buyer thinks it's worth $10 billion, so the buyer pays $10 billion plus, say, half of what it turns out to be worth above that amount. But this goofball CVR, in which Valeant would set up a mini-company to develop DARPin, run by Allergan appointees with $400 million of Valeant money and hard feelings all around, seems more like an exercise in passive-aggressiveness. 5 Each of the footnotes here seems meant to indicate sarcasm: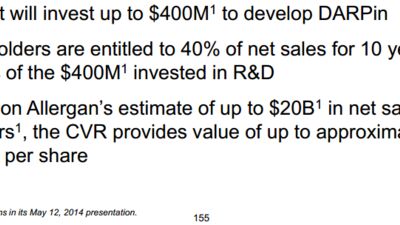 They all refer back to that chart up top: You believe in that giant red bar? You're welcome to it. We have our doubts.
Why is this deal so mean? It's quite customary for the target of a hostile deal to say that its standalone prospects are bright, and undervalued by the bidder; it is less customary for the bidder to treat those claims with quite this much sarcasm. And it's unusual for the target to disparage the bidder's business model, and its accounting, quite so nastily. Normally the idea is to talk up your prospects, and talk down the bid, to leave yourself some optionality to accept a later, higher bid. Once you say "this bidder's business model is totally unsustainable and maybe a scam, we cannot accept their stock," it's hard to later say "well OK we can accept a lot of their stock."
Obviously there are many dynamics involved here: Allergan and Valeant really are run along pretty different lines, and Valeant's aggressive and hedge-fund-assisted approach probably created some bad blood. But one possible complication is Valeant's effort to hold a fake meeting of Allergan shareholders to vote on a resolution that"the shareholders of Allergan hereby request the Board to promptly engage in good faith discussions with Valeant regarding Valeant's offer to merge with the Company, without in any way precluding discussions the Board may choose to engage in with other parties potentially offering higher value."
That's a pretty harmless-sounding resolution -- why shouldn't Allergan at least talk to Valeant? -- and you could see how even a shareholder who was happy with Allergan's standalone strategy might be convinced to support it. But if it got a lot of shareholder support, it would make it much harder for Allergan to remain independent. By holding this unusual vote, Valeant forced Allergan into an earlier and more intense fight for its shareholders' loyalty than you normally see in hostile M&A battles. And that might have raised the stake of the fight. To convince shareholders that it shouldn't even talk to Valeant, Allergan can't just argue that its bid undervalues the company. It has to argue that Valeant is too mean, too dangerous, or too deceptive even to be in the same room with. And that makes for some pretty ill-tempered presentations.
What, it is. From Allergan's 10-K:

In 2011, we entered into a license agreement with Molecular Partners AG, pursuant to which we obtained exclusive global rights in the field of ophthalmology for AGN-150998, a Phase II proprietary therapeutic DARPin® protein targeting vascular endothelial growth factor receptors under investigation for the treatment of retinal diseases. In 2012, we significantly expanded our existing relationship with Molecular Partners AG by entering into two separate agreements to discover, develop, and commercialize proprietary therapeutic DARPin® products for the treatment of serious ophthalmic diseases. The first agreement is an exclusive license agreement for the design, development and commercialization of AGN-151200, a potent dual anti-VEGF-A/PDGF-B DARPin®, and its corresponding backups for the treatment of exudative age-related macular degeneration and related conditions. The second agreement is an exclusive discovery alliance agreement under which we will collaborate to design and developDARPin® products against selected targets that are implicated in causing serious diseases of the eye. In 2013, we completed an analysis of data from the randomized controlled Phase II trial for AGN-150998 comparing two doses of the anti-VEGFDARPin® and Lucentis® (ranibizumab), which suggested some product differentiation but did not support directly moving to Phase III. We completed enrollment in the third stage of our Phase II study to more completely assess safety and efficacy and to guide the potential Phase III study design.


I guess it's an eye drug, so sorry about that "short-sightedly." The pun really was not intended.

OK, can we talk about that title? It is amazing. Like, the direct translation of "They are a bunch of fraudy fraudy fraudsters" into blandly lawyered corporatese is "Certain Potential Business Risks and Issues." If there's a dirtier word in corporatese than "Issues," it is "Certain." Starting a presentation with the word "Certain" is pretty much like starting it with a punch in the face. Also, I enjoy the use of Valeant Pharmaceuticals International, Inc.'s full name, which should be read in tones of parental exasperation.

To be fair, Allergan's advisers at Goldman Sachs have some history of letting their clients be acquired for stock in companies that turn out to be giant frauds.

The presentation doesn't shy entirely away from Valeant's cost-cutting reputation. A fun thing to do is to search the presentation for the word "leaned," which Valeant uses as a transitive verb meaning "fired a bunch of people in." So when it bought Bausch + Lomb, Valeant "Leaned bloated Finance, IT, Legal, HR, Global Marketing and Corporate Communications teams" by 60 percent.
To contact the author on this story:
Matthew S Levine at mlevine51@bloomberg.net
To contact the editor on this story:
Zara Kessler at zkessler@bloomberg.net
Before it's here, it's on the Bloomberg Terminal.
LEARN MORE