Three Studies in the Perils of Low Growth
How governments in the European Union, Ukraine and Egypt respond to voters -- and how free they are to respond aggressively -- will have influence beyond all of these regional borders.
by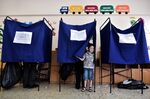 Is it a stretch to argue that this recent wave of noteworthy elections -- in three very different places and under very different circumstances -- share a common theme? I don't think so. Fundamentally, they all reflect a basic yearning on the part of long-suffering citizens for economic prosperity and for better social and political outcomes.
How governments responds to voters -- and how free they are to respond aggressively -- will have influences that travel well beyond all of these regional borders.
Over the last few days, European citizens delivered a loud protest vote by favoring non-mainstream parties in unprecedented numbers. In some cases (such as France and Greece), those parties secured the largest votes. Further east, Petro Poroshenko secured a decisive first round victory in Ukraine's presidential elections. And in the Middle East, most observers agree that Abdel-Fattah El-Sisi is leading Egypt's presidential poll and is likely to win.
At first glance, these three outcomes have very little in common. The political, social and geopolitical landscapes prior to the elections varied region to region, and the choices offered to the electorates also diverged.
Yet all three elections highlight this reality: Voters are increasingly frustrated with political systems that have failed to deliver growth and jobs.
This frustration gets reflected in different ways -- from putting Europe's mainstream parties on notice, to placing an oligarch in Ukraine's presidential office, to opting for a president with a military background in Egypt. In each case, long-suffering citizens are yearning for political leadership that delivers growth, jobs, prosperity and stability. That is the reality whether it be in advanced countries still seeking to recover properly from the devastation of the global financial crisis, or in emerging countries navigating particularly tricky historical transitions after years of lackluster economic performance and political volatility.
Looking forward, Europe, Ukraine and Egypt will need to respond to their electorates' wishes by delivering a clear and credible pathway to higher growth and more dynamic job creation. Yet all three face domestic challenges and external headwinds in meeting those obligations.
For Europe, economic "liftoff" is necessary to stop the protest vote from developing into something more sinister that could paralyze policy-making and undermine Europe's historic regional integration project. In Ukraine, it is about restoring political stability and keeping the country's crisis from causing broader geopolitical shocks. For Egypt, it is about restoring domestic stability and growth, and enhancing the country's regional role as a diplomatic force.
It appears that all three have the tools and incentives they need to turn around their respective situations and meet their citizens' aspirations. But governments have to deliver three things that have been inadequately present for a number of years now: credible medium-term visions, policies that command broad-based domestic buy-in and steadfast implementation. The vast majority of people, inside and outside of these regions, have a common interest in this finally happening.
This column does not necessarily reflect the opinion of Bloomberg View's editorial board or Bloomberg LP, its owners and investors.