The 9 Lives of Colombia's Alvaro Uribe
Colombians have always been suckers for a man on a horse.
by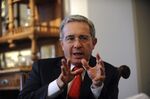 Hosts to some of the world's busiest drug cartels and the hemisphere's longest guerrilla insurgency, Colombians aren't easily rattled. But after the first round Sunday of the presidential contest, in which challenger Oscar Ivan Zuluaga bested incumbent President Juan Manuel Santos , even this calloused country of 45 million was impressed.
Not so much with Zuluaga, a bland former finance minister who came from nowhere (the Colombian press dubbed him Zorro) to overtake an incumbent once touted as a shoo-in for re-election. Backed by former PresidentAlvaro Uribe , Zuluaga now heads to the June 15 runoff as the favorite. But what is most remarkable about this electoral battle is that the biggest winner isn't even on the ballot.
Although Uribe has been out of power since late 2010, he hovers over the election like a combat drone. In March, he became the first ex-president to win a seat in the Colombian Senate. The party he invented barely a year ago, Centro Democratico, is already the second largest in the upper house of Parliament, with 19 seats. Uribe has been a political godfather to scores of contenders in Colombian politics. In Sunday's election, all five candidates sharied ties to the former leader, including three former ministers (Zuluaga, Santos, and Marta Lucia Ramirez ), an ex-fiancée (Clara Lopez) and a onetime political ally (Enrique Penalosa), and voters joked about which "Uribista" to pick.
In a continent known for its strongmen and silver-throated populists, voters still swoon for the man on the horse. Rafael Correa of Ecuador is most comfortable holding forth from a balcony, and many Venezuelans refuse to accept that their beloved comandante, Hugo Chavez, who died of cancer last year, is gone. But such personal clout is jolting in Colombia, a prospering market-friendly democracy, which became a foreign investment magnet and one of the region's most dynamic economies because it chose to be a land of laws, not caudillos.
Uribe paved the way. With billions in aid from Washington, he waged an all-out war on drugs and thugs, gutting the ranks of the Marxist-inspired Revolutionary Armed Forces of Colombia and rescuing the nation from an almost certain path to ruin. Had he been allowed to run for a third term, he easily could have won. But the Constitutional Court ruled against him, and so Uribe turned to Santos, hoisting his former defense minister to victory in 2010.
A political neophyte, Santos was expected by many to toe his mentor's line. The scion of a newspaper dynasty had other ideas. First, he struck a truce with Chavez, ending a cold war between Venezuela and Colombia that had all but paralyzed bilateral trade. That might have flown in the traditional "gentleman's club" of Colombian politics, as Michael Shifter, head of the Inter-American Dialogue, called it. But the Bolivarian strongman was Uribe's blood enemy, and relations between the president and his mentor grew strained. They shattered when Santos announced he would renew peace talks with the FARC.
"If it worked out, Santos would go down in history as one of the great Colombian presidents," Shifter told me at the time. "If he fails, he'll be one more president who tried to make peace."
Uribe didn't wait. Using Twitter, where he boasts 3 million followers, as his bully pulpit, Uribe snipes at his former protege around the clock. When he's not "betraying" his countrymen by mollifying murderous Marxist guerrillas, Santos is said to be indulging Castro-Chavismo, shorthand for a cabal of leftists purportedly dedicated to destroying Colombia. It's a familiar rant. Yet with flagging support for the dragging peace talks, the message has resonated with an electorate weary from an unfinished war but wary of a false peace. In one of his first declarations as frontrunner this week, Zuluaga said he would give the FARC eight days to lay down its weapons.
The contest isn't over. Santos and Zuluaga are searching for allies to win the June 15 runoff. Whatever the outcome, Latin America's ranking kingmaker has roiled the race. Forget the gentleman's club. Colombia's presidential election is looking a lot more like a cage fight.
This column does not necessarily reflect the opinion of Bloomberg View's editorial board or Bloomberg LP, its owners and investors.