Terror Takes a Toll on Beijingers
In China, increased anti-terror measures have gone national in the last month, often to the considerable dismay of the people whom they're supposed to protect.
by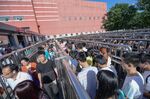 Two weeks ago the ordinarily sleepy security personnel at my Shanghai subway stop woke up as I walked past them. My backpack, they told me, had to be run through the X-ray machine that's stood mostly idle in the four-plus years since it first appeared. I did as told, and as the bag emerged I was given another order: Please remove the bottle inside and drink whatever is in it. So I opened the bag, took out the bottle of water I bring to my gym and -- as the two guards watched -- drank deeply from it. "Ok," one said, satisfied that I hadn't died from imbibing some liquid explosives. "You can go."