Pay Up or Your IPhone's Dead
Scammers have learned to hijack iPhones using their kill switch feature. Technological solutions for "analog" crime create new opportunities for the digital variety.
by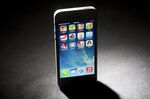 Proponents of equipping smartphones with obligatory kill switches to prevent theft should heed a new type of fraud that has spread from Russia and Ukraine to Australia in recent days and is probably coming to other countries soon: Holding iPhones for ransom using their kill-switch feature.