view
Obamacare's Muffled Midterm Effect
Health-care law only could matter on the margins.
by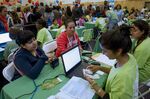 Time for another look at Obamacare and the 2014 election.
So where does that leave us?
Most people, in most elections, don't vote directly on policy issues. So the fact that "Obamacare" in general is unpopular doesn't necessarily mean anything. Most people vote based on party. And in House and Senate elections, they may base their votes on what they know about the candidates, especially if there's a big gap between them. 1 That suggests Obamacare could hurt some Democrats on the margins, if a candidate's support of something people don't like is one of the main things they know about that candidate. It also suggests the ACA could hurt some Republicans on the margins, if a candidate's support for repeal of a popular item is something people know about the candidate.
So Obamacare could cut both ways at the same time. Again, that's a plausible outcome if voters separately assess the candidates and what they know about them, as opposed to beginning with an issue and working from there.
Another relevant potential effect, however, comes from an additional force in midterm elections, which is presidential approval. The central concept here is "priming" -- the evaluation people make of presidents can be dependent on the context in which they think of them. The classic example of this was the presidency of George H.W. Bush, who was perceived to be strong on foreign policy and weak on domestic policy. If Iraq or some other national security issue was in the news, Bush's approval ratings rose. If the economy was in the news, his ratings fell, even though people's actual opinions of his presidency (good at foreign affairs, bad at domestic policy) didn't change. Given that , by evoking Obamacare (assuming it remains unpopular), Republicans could cause Obama's reported approval ratings to fall.
Or there could be an even simpler effect: in states where the president is unpopular, which include many of the states with contested Senate races this cycle, talking about "Obamacare" -- and therefore President Barack Obama -- may hurt Democrats, even among voters who don't care about health-care reform. That may be a case of priming, too.
All of these effects are likely on the margins. In close elections, however, small effects can be extremely important. It may not seem to make sense that something could work against both candidates, and the net effect (if any) will help only one candidate in a two-candidate election. But in fact there are sound political-science reasons that one issue could have effects in both directions.
It's not unusual, especially in House races, for voters two know one or two positive things about the incumbent and nothing at all about the challenger. That is often enough for people to vote for the incumbent, regardless of party. As challengers spend more, that advantage disappears, but most never get to that point.

To contact the author on this story:
Jonathan Bernstein at jbernstein62@bloomberg.net
To contact the editor on this story:
Max Berley at mberley@bloomberg.net
Before it's here, it's on the Bloomberg Terminal.
LEARN MORE