New Strategy for Student Achievement: Spend Less
U.S. spending on primary and secondary education fell in 2012, for the first time in almost four decades. Welcome to the new experiment.
by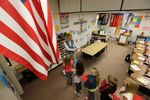 After spending more money on primary and secondary schools every year for almost four decades and not getting much to show for it, the U.S. is trying the logical alternative: spending less. Whether you think that's a good idea depends on how you value the competing roles of government -- and your appetite for risk.