How to Protect Your Digital Afterlife
Online, we're permanent, intangible, immortal. So what happens when we die?  
by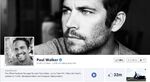 We live increasingly virtual lives. We are our Facebook profiles, our iTunes libraries, our Amazon wish lists, our Dropbox files, our Twitter feeds. Online, we're permanent, intangible, immortal. So what happens when we die?
The digital afterlife is one of many areas in which law has yet to catch up with technology's speedy intrusion into our businesses, communications and lives. There's little consistency in how technology companies handle -- or don't handle -- what happens to an account when the user dies, leaving family and friends locked out or unsure what to do. A new proposal would address that, simplifying the process of laying digital ghosts to rest.
Called the "Fiduciary Access to Digital Assets Act," the bill would grant people with fiduciary authority the right to access and control the deceased's digital accounts. This would let them inherit digital belongings in the same way they do physical ones, and stand in for the original user for the terms-of-service agreements that users sign when creating accounts. The Uniform Law Commission, a nonprofit group of lawyers who draft and promote legislation for states to adopt, will vote on the proposed law in July.
Managing digital accounts after death has been in a legal gray zone, though recent efforts by some states show the demand for a more comprehensive system. As Pew Research shows, seven states have "digital asset laws" to manage the accounts of the deceased, and 14 more are considering legislation. The current systems vary; for states, the proposed law may be the simplified, up-to-date and uniform solution.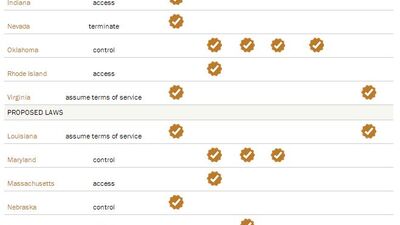 Absent a comprehensive legal framework for maintaining our digital afterlives, some online companies have started to create their own processes for account management for the deceased. Twitter has a contact form to help assist with deactivating, not transferring, the deceased's account. Google doesn't guarantee help with account transfers but has a multi-step process to submit a request. Yahoo accounts are nontransferable, but can be terminated after submitting a detailed request.
Shutting down a deceased person's Facebook account requires the user's birth certificate, death certificate and proof the person submitting the request is a lawful representative of the user. Facebook also takes requests to memorialize accounts, recently updating the visibility of these accounts to keep the setting of the account the same as the setting the user chose, and offers "Look Back" videos that compile the Facebook highlights of people who have passed away for family and friends.
You can also take managing your digital legacy into your own hands. Some startups are stepping in to help organize the virtual afterlife. A few options to consider:
Some of these ideas seem way too creepy and sci-fi for my taste. When I die, I have no desire to haunt the Internet as an undead tweeting machine. But making sure that legally my digital accounts and files are easily passed into the hands of someone I love and trust after I die? That's something I can support.
This column does not necessarily reflect the opinion of Bloomberg View's editorial board or Bloomberg LP, its owners and investors.