view
Wars Start in 'Hours' But Rarely End That Way
Ukraine's new president needs to move carefully. If civilian casualties rise, the divisions in Ukraine are quite strong enough to provoke a full-scale civil war.
by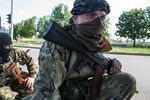 The response of the Donetsk People's Republic to Ukraine's presidential election was to declare martial law at midnight Sunday and send troops to take over the airport around dawn.
What happened next in Donetsk yesterday was unclear even to those of us who were here. At about 9 a.m., three Kamaz trucks, each carrying about 20 uniformed separatist fighters, passed me on the way to the airport to provide reinforcements. The local radio said negotiations were under way, and it seemed that, as in Crimea, security forces loyal to the government might just hand over the keys. Life would go on in a city that had previously seen no fighting.
Instead, an air attack followed, involving Ukrainian jets and helicopters. Ukraine's new president-elect, Petro Poroshenko, said he would crush the separatists that have taken over parts of the east within "a few hours," not months. A number of the rebel fighters were killed, though how many is uncertain.
Shooting also broke out at the railway station and a parking attendant was killed. Pictures of the Donetsk People's Republic's putative prime minister, Denis Pushilin, allegedly evacuating his headquarters began to circulate on Twitter (he denied it and is still there). Ukrainian troops also tried to storm the separatist headquarters in Mariupol, 60 miles south of Donetsk.
Poroshenko has a near impossible task ahead of him, which is to eliminate the separatists without driving the country to a full-blown civil war that forces ordinary Ukrainians to choose sides. Many things about the situation in eastern Ukraine remind me of the way the war between Serbia and Croatia unfolded in 1991 -- right down to the hum you began to hear on country roads as your tires picked up the tiny ruffles left by tank tracks.

The one thing that Poroshenko should not have said was that he would eliminate the separatists in "hours," because while wars can start that quickly, they rarely end so. No doubt he wanted seize the momentum his impressive election victory has given him by sending a clear message. But he does not have the means to eliminate the separatists overnight, and certainly not without significant civilian casualties.
One advantage Poroshenko has for the moment is that most people in Donetsk -- a relatively prosperous town peppered with luxury stores from Canali to Escada -- don't identify strongly with the separatists, many of whom they suspect of being criminals. Most aren't wild, either, about the idea of joining Russia or becoming an unrecognized no man's land.
Another potential advantage Poroshenko has is that there is no clear ethnic or religious distinction between the two sides who would fight this war -- unlike in the former Yugoslavia, where the Croats, Bosniaks and Serbs were clearly distinguishable by religion. That's why the separatists and President Vladimir Putin have had to stretch to identify the enemy that must be fought -- "fascists" in the West of the country, hundreds of miles away.
Poroshenko has little choice but to use force, and yesterday the separatists were apparently the ones who escalated the violence by seizing the airport. But he needs to move carefully. If civilian casualties rise, the divisions in Ukraine are quite strong enough to provoke a full-scale civil war. Avoiding one will require isolating the separatists from local and Russian support. And that will take a lot more than a few hours.
To contact the author on this story:
Marc Champion at mchampion7@bloomberg.net
To contact the editor on this story:
Nisid Hajari at nhajari@bloomberg.net
Before it's here, it's on the Bloomberg Terminal.
LEARN MORE