Wal-Mart Shareholders Want to Hear More About This Bribery Problem
If you think ISS's job is to tell shareholders how to vote their proxies, then why tell Wal-Mart shareholders anything? "Your vote doesn't count, give up" is sort of dispiriting advice.
by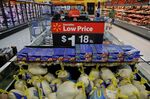 Should you vote to re-elect Wal-Mart chairman S. Robson Walton and director Michael T. Duke? Hahaha who cares, your vote doesn't count, over 50 percent of Wal-Mart's shares are controlled by Walton family members so they can do whatever they want. 1 If you're actually filling out a ballot, just write in my name or whatever, it doesn't matter. 2
But Institutional Shareholder Services wants you to vote no anyway; it also wants you to vote no on Wal-Mart's say-on-pay proposal and yes on a proposal to have an independent chairman. "Independent" means, in this case, "not having the last name Walton," 3 and again a majority of the shares voting on that proposal will be controlled by people with the last name Walton. Good luck!
"The recommendations are unlikely to have much practical effect given the Walton family's control over the company," says the Wall Street Journal, but even if the Walton family accidentally voted the wrong way the recommendations would have no practical effect. No one is running against Duke and Walton, so voting against them is mostly meaningless; 4 say-on-pay votes are always advisory; and the independent-chairman vote is a precatory shareholder resolution that, again, is not binding. This is not unusual; outside of contested proxy fights and M&A, nothing about shareholder democracy has much practical effect.
But there is usually some value to a bunch of shareholders voting against the board. It might spur the board to make some changes because, ooh, shareholders are mad at it. And you like to be shareholder-friendly, as a board, both because it is The Thing To Do and because there's always at least some risk of an activist mounting a proxy fight or a raider making a hostile takeover bid, in which case shareholders' opinions would actually matter and you'd need to rely on shareholder support.

Except, again, at Wal-Mart, which is giant and family-controlled, so that risk doesn't exist. Carl Icahn's not gonna go buy Wal-Mart to take advantage of shareholder dissatisfaction.
If your model of ISS is that it is an organization that tells institutional shareholders how to vote their proxies, then this story is sort of baffling. ISS's Wal-Mart report is 36 pages long. If you are an ISS customer and Wal-Mart shareholder, and you read that report and follow its recommendations, you're wasting your time. Here, I can save you the trouble; my advice on how to vote your proxy is, "Don't bother, did you know that Wal-Mart is family-controlled?"
So you probably need a different model of ISS. One useful model is that ISS is not an adviser to institutional shareholders, but a focal point for their beliefs about governance. The story here, on that model, is not "ISS is really mad at Wal-Mart over its pay practices and its bribery investigation, and so is telling its customers to cast a meaningless vote against Wal-Mart's directors." Rather, it is "Wal-Mart's shareholders are really mad at Wal-Mart over its pay practices and its bribery investigation, and they know that their votes are meaningless, so they've pushed ISS to recommend a no vote."
On this view, ISS's note isn't about telling shareholders what to think; it's about representing what they do think, but have no effective way to say. It's about providing an authoritative criticism of Wal-Mart, and a demand that the company do better. Here's how ISS starts its note:
The board failed to make progress in providing meaningful information to shareholders about any specific findings on the FCPA-related investigations and whether executives will be held accountable for related compliance failures.

It goes on to describe Wal-Mart's long-running, expensive ($450 million so far), and not particularly transparent investigation into potential violations of the Foreign Corrupt Practices Act in Mexico a decade ago, and to endorse some of CtW Investment Group's criticisms of Wal-Mart's pay practices, finding that "a somewhat troubling picture does emerge" of ad hoc adjustments to performance targets that allow executives to be paid more. The message for Wal-Mart is, improve your pay-for-performance and be more transparent about your bribery investigation, or we're going to keep embarrassing you every year.
It's not much, but then, there's not much minority shareholders in a family-run business can do. At least an ISS recommendation gets press coverage. I mean, this thing was picked up by Gawker. 5 Without ISS, the story would be something like, "15 percent of Wal-Mart shares voted against re-electing its chairman." 6 That would be a huge showing for the insurgency. But it's still just 15 percent. Doesn't carry the same weight as an independent shareholder watchdog disapproving of Wal-Mart.
The point is that the ISS recommendation is not about influencing the shareholder vote, which here is a foregone conclusion. The ISS recommendation is the event itself. It's the most useful, and maybe the only, way for Wal-Mart's shareholders to express their -- mostly symbolic, mostly ineffectual -- dissatisfaction in a way that will get noticed. Who knows, Wal-Mart might even pay attention. It's under no obligation to listen to ISS, but then, it's under no obligation to listen to its shareholders either.
To contact the author on this story:
Matthew S Levine at mlevine51@bloomberg.net
To contact the editor on this story:
Toby Harshaw at tharshaw@bloomberg.net
Before it's here, it's on the Bloomberg Terminal.
LEARN MORE