Ukraine's Autocratic New President
Ukrainian President-elect Petro Poroshenko's first statements and actions suggest he won't be the figurehead president protesters wanted when they overthrew authoritarian Viktor Yanukovych.
by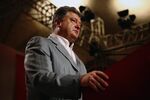 The first actions and pronouncements of the new Ukrainian president, billionaire Petro Poroshenko, suggest that he intends to be a strong-arm leader in the traditional post-Soviet mold. A worthy adversary for Russian President Vladimir Putin, perhaps, but not quite what the pro-European protesters wanted when they overthrew another authoritarian leader, Viktor Yanukovych, just three months ago.