China's Xi Takes On Corruption
The shock that forces investors from a "risk on" investment strategy to a "risk off" one could come from a financial crisis in China. Corruption, currency and shadow banks are the possible triggers.
by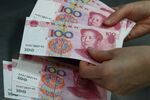 The shock that forces investors from a "risk on" to a "risk off" strategy could come from a financial crisis in China. In part one of this series, I addressed three problems -- slower growth, transitioning from an export-led to a domestic-driven economy and rising militarism -- that could deliver such a shock. Here, I look at three more nagging problems: corruption, currency manipulation and shadow banks.
Graft, corruption and favoritism are standard fare in developing countries, especially those with concentrated power and little room for public dissent. This certainly has been true in China. Consequently, President Xi Jinping's anti-corruption campaign is a disruptive attack on officials who manage the economy while feeding lavishly at the public trough. A Pew Research Center poll last October found official malfeasance to be a "very big problem" for half the Chinese respondents, up from 39 percent in 2008.
This year, the chairman and general manager of China Three Gorges Corp., the operator of the giant hydropower dam, were replaced. An investigation found extravagant spending, expensive vehicles, inappropriate use of company apartments and cronyism on construction-project bids.
The Central Military Commission, which controls China's armed forces, has outlawed numerous practices, including luxury banquets and liquor-soaked receptions. Xi's frugality campaign is aimed in part at allaying public outrage over the lifestyles of "princelings," the sons and daughters of top officials.
Interestingly, 100,000 bloated and inefficient state-owned enterprises contribute about 25 percent of industrial output and have near-oligopolies in energy, transportation, banking and other crucial sectors. So far, they have been excluded from the austerity program. These businesses, which vigorously resist reform, have close relationships with political leaders. Many government officials were executives at state-owned enterprises and now oversee their former companies.
A successful anti-corruption and efficiency campaign could involve reforming the politically powerful enterprises and ousting the government officials overseeing them. Plenty of push-back is to be expected.
QuickTake China's Managed Markets
Chinese leaders have an easier time controlling their currency than their corruption. The government has alternated between pegging the yuan to the dollar and allowing it to move up or down in tightly controlled bands. Some say the huge devaluation of January 1994, in which the yuan moved from 5.8 to the dollar to 8.7, laid the groundwork for the collapse of other Asian currencies five years later.
The yuan was repegged in May 1995 at 8.32 to the dollar. But under immense pressure from Washington, which claimed China was purposely undervaluing its currency to increase exports, the yuan was allowed to reach 6.83 to the dollar in July 2008. The recession brought another peg that lasted until June 2010. From that time until early this year, the yuan has appreciated an average of 2.5 percent annually, with low volatility.
That, of course, has attracted a huge number of speculators who see the yuan's appreciation as a safe, one-way bet to leverage to the hilt. Such strong demand has kept the yuan trading close to the 1 percent limit above the rate that the central bank sets daily.
The profit opportunity has even encouraged speculators to smuggle money into China. Some Chinese exporters, for example, inflate their invoices. That allows more dollars to be remitted to China than the goods are worth. Similarly, some Chinese companies borrow yuan to finance exports. Then they send the exported goods back to China, where the imports are paid for in dollars. They repeat the process to generate even more dollars.
Moving goods in and out of the Shenzhen special trade zone also provides a means to ship dollars into China to speculate on anticipated yuan appreciation. Investment products sold to Chinese exporters to hedge against the dollar are also used for yuan speculation.
Chinese foreign currency reserves leaped $510 billion last year to $3.8 trillion, suggesting money came in through illegitimate channels. About $150 billion of $244 billion in capital inflows was hot money. In January, $73 billion flooded in -- the biggest monthly inflow in a year.
Chinese leaders are clearly unhappy with the one-way bet they are providing to speculators as they also seek to curtail excess liquidity. So in late February, the People's Bank of China, the nonindependent central bank, engineered an unexpected drop in the yuan by buying dollars and selling yuan. Sure, this fits in with China's long-run plans to free the yuan and make it an international currency. And China did increase the trading band from 0.5 percent to 1 percent. A weaker yuan, furthermore, helps Chinese exports. But the timing implies this policy reversal was a blatant attempt to punish speculators.
The effects were swift and significant. Global trading in the yuan dropped 8.5 percent in February from January, pushing it from the seventh to the eighth most-used currency.
The Chinese government, which doesn't want to push the currency into free-fall, is playing a dangerous game. A weaker yuan revives criticism from the U.S. and others that China is a currency manipulator. And further weakness could cause foreign capital to flee China in anticipation of even more declines. Besides, dollar-buying only adds to China's embarrassing horde of foreign currency.
Nevertheless, as we know from repeated historical examples, runs on currencies are difficult to stop. Chinese leaders, in their zeal to punish speculators and assert control, may have erred.
In China, bank deposit rates are held below inflation rates to subsidize cheap loans for inefficient state-owned enterprises. But low rates have also driven savers to look for higher returns in trust companies, pawn lenders and other lightly regulated financiers known as shadow banks.
Trust companies, which can pay more than official deposit rates to attract funds, had $1.8 trillion under management in 2013 -- up 46 percent from a year earlier. They made 60 percent of new loans to the booming property sector in 2013. Property sales by trust companies, meanwhile, jumped 26 percent.
Official banks also use shadow banks to hide bad loans. They do this by creating off-balance-sheet vehicles, which don't have reserve requirements, to hold nonperforming loans. Shadow-bank loans are often made to local governments to finance the construction of office buildings, many of which are now unoccupied. As a result, shadow banks have accounted for more than the total growth in Chinese social financing, which equals regular bank lending plus shadow bank lending, since 2009 when official bank financing began to recede.
About half of Chinese shadow-bank assets are invested in real estate, infrastructure, energy and mining. As mining loans soured, the shadow banks moved more assets into real estate. New products offered by online shadow banks are especially popular because they offer higher yields than official banks do. (Online investment products aren't required to hold reserves, but that could soon change.)
Shadow banks are useful because they fill niches, especially by lending to cash-starved small businesses. Yet the government is unhappy with its lack of control. Late last year, the central government sought to limit growth and increase supervision, saying that shadow banks would be regulated "one by one." This could be difficult in an economy that is part market-driven and part authoritarian.
To curb the shadow banks, the central bank has periodically allowed the 7-day repo interest rate (repos are an important source of overnight financing for shadow banks) to rise. The rate leaped to almost 30 percent last June; it's normally 2 percent to 3 percent. The risk, of course, is that the government will poorly execute its plans to curb shadow banks and that panicked savers will suddenly withdraw their funds. A run on the shadow banks could spread throughout the financial sector.
As if that's not enough, China has other big worries. In the third installment of this four-part series, I will explain why interest-rate deregulation, a real-estate bubble and the prospect of botched bailouts also have the potential to shock investors.
To contact the author on this story:
A Gary Shilling at insight@agaryshilling.com
To contact the editor on this story:
Paula Dwyer at pdwyer11@bloomberg.net
Before it's here, it's on the Bloomberg Terminal.
LEARN MORE