Apple Can't Sell Me a Smart Home
Apple's entry to the Internet of things could pull the concept into the mainstream, making customers trade their security for unnecessary functionality.
by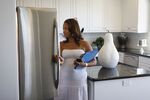 I hope it's not true that Apple's next big bet will be on the "Internet of things." The concept is a useless and dangerous one, and now Apple's powerful marketing machine may join Google's in selling it as progress.