Sunday Question for Liberals
Which cabinet members stand out?
by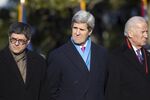 The cabinet has been in the news this week so how about: Which members of Obama's cabinet (past and present) are the stars? Which are the duds? Why?
This column does not necessarily reflect the opinion of Bloomberg View's editorial board or Bloomberg LP, its owners and investors.
To contact the author on this story:
Jonathan Bernstein at jbernstein62@bloomberg.net
Before it's here, it's on the Bloomberg Terminal.
LEARN MORE