What Mattered This Week?
The VA scandal mattered, but maybe not for the reasons you think.
by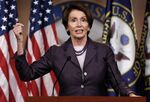 The Veterans Affairs scandal? Sure, it matters, if for no other reason than because it's likely to have substantive effects. It's likely to improve health care for veterans. I don't think it's very likely that the VA scandal will be a significant factor in November's elections, though.