Napolitano Admits There's No Such Thing as Sealed Border
by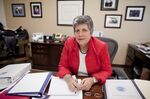 Speaker John Boehner made news on immigration this week, holding, once again, that the reason the House of Representatives has passed no legislation is that President Barack Obama is a bad guy.
Senate majority leader Harry Reid made news on immigration this week, telling Boehner, once again, that the House is welcome to pass legislation that won't take effect until Obama, the bad guy, has left office in 2017.
President Obama made news on immigration this week, saying, once again, that the reason the House can't pass legislation is that (OK, I'm reading between the lines) House Republicans are a bunch of buffoons.
What with all that "news," you may not have heard what former Homeland Security Secretary Janet Napolitano said this week.
Until she resigned in 2013 to lead the University of California system, Napolitano was in charge of securing U.S. borders. She oversaw a large expansion of border-patrol technology and personnel. And trudged up to Capitol Hill at regular intervals to assure its denizens that border security was at the top of her agenda. So it was kind of interesting to hear this.
"You cannot seal a border," she told the Associated Press on a trip to Mexico, "that's an unrealistic expectation."
What do you know.
The U.S. spends about $18 billion a year on immigration control, more than on all other federal law enforcement agencies combined. The number of Border Patrol agents has doubled in the past decade, reaching more than 21,000.
Here is Napolitano in 2013:
We're putting mobile surveillance so that we can move around and watch and we have increased the boots on the ground," she said. "Over the last couple of years, we've added what we call boots in the air, aerial surveillance, for the first time, border-wide, but really focused on that Tucson sector.
Boots on the ground, boots in the air, boots everywhere, yet it turns out that after all that, a secure border is still a fantasy. The U.S. has about 7,000 miles of land border, 95,000 miles of shoreline and thousands of airports. More than 50 million tourists arrive legally in the U.S. each year, some of whom don't get around to leaving.
Napolitano told the AP that federal funds would be better spent on easing border bottlenecks that inhibit trade than on more barriers, agents and "security." Someone should tell Congress.

This column does not necessarily reflect the opinion of Bloomberg View's editorial board or Bloomberg LP, its owners and investors.