India's Modi Needs to Act Quickly
Voters clearly believed India's government had run out of energy and ideas, and that's why Narendra Modi must embrace his campaign promises of delivering a bold economic program.
by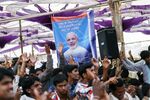 Having ridden a huge anti-incumbency wave in India to an overwhelming election win, Narendra Modi now faces the challenge of meeting voter expectations for his upcoming tenure as his country's next prime minister. To succeed, he needs to quickly work out details for accomplishing three things during his first 100 days: announce a bold new economic program, create better political and institutional conditions for its implementation, and deliver some early wins, even if they're small.