It's Alive! Sarkozy Walks Again.
Former French President Nicolas Sarkozy has broken a two-year silence to air old ideas on how the EU should be remade.
by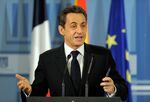 Nicolas Sarkozy, the man who in 2012 had the distinction of being the least popular president in French history, is back. And his old agenda of creating a "two-speed Europe" is sounding more convincing than ever.
Sarkozy is a political animal extraordinaire, an explosive bantamweight fighter. He was shocked and depressed when Francois Hollande defeated him in the 2012 presidential election. "You won't see me anymore," he told reporters. Now, though, his party, the center-right UMP, is about to be humiliated in Sunday's European Parliament election: The anti-European Union, anti-immigration National Front looks poised to overtake it. And Sarkozy appears somewhat rehabilitated in the eyes of French voters. According to an OpinionWay survey from last month, Hollande, who has long since beaten Sarkozy's unpopularity record, would be knocked out in the first round of a presidential election, and his predecessor would win the run-off against extreme right National Front leader Marine Le Pen by a 67-33 landslide.
Sarkozy raised his old battle cry in a lengthy article for the French weekly Le Point and the German daily Die Welt (the link is to the German version because the French one is behind a paywall). His starting point is that a united Europe means peace. "I have no doubt whatsoever that if the EU collapses, the centuries-old hatreds and conflicts will break out again with redoubled violence," Sarkozy wrote. With conflict raging in Ukraine, which has just lost a piece of territory to an invader, the point rings truer than it would have back in 2011. Had Ukraine been an EU member, Russian President Vladimir Putin would hardly have dared take Crimea. This is perhaps the best argument that can be made for preserving the EU.
Sarkozy wants the union reorganized on a two-tier principle. The 18 countries of the euro area, led by a "Franco-German Economic Zone" at its center, would integrate more closely, because it's impossible for countries using the same currency to have widely diverging economic policies. That is a nostalgic scheme from the Merkozy era, when the French leader worked closely together with German Chancellor Angela Merkel. Back then, most EU leaders agreed with European Commission President Jose Manuel Barroso, who said that a split union "with an integrated core but a disengaged periphery," run by "any kind of directorium" would not work. Now, though, with the possibility of the U.K. leaving the bloc more real than ever, loosening the reins to pacify one of the bloc's most powerful members is not such a bad idea.
Sarkozy also suggests breaking up the visa-free Schengen area and then re-forming it from countries that agree to a unified immigration policy. That would still allow workers from Eastern Europe to seek greener pastures within the EU, but arguably make it harder for outsiders from Africa and the Middle East to buy entry to the weaker, more corruption-prone EU countries and then settle in the wealthier ones. In 2013, the number of illegal immigrants to the EU increased to 107,000 from 75,000 in 2012, so again, this is a good moment to revive Sarkozy's old call for a "Schengen II."
Le Pen called Sarkozy's proposals "a comedy of repetition," a bunch of promises he failed to keep when he was president. They certainly have their flaws. Loosening the union at its periphery and strengthening it on the euro-area level is no antidote to the success of Euroskeptic parties in countries such as France, the Netherlands, Austria and Greece. Trying to run the union from Paris and Berlin, as Sarkozy suggests, is not going to endear the union to smaller countries -- rather, it will strengthen centrifugal tendencies. Closing some borders will do nothing to stop immigrants dying in the stormy seas near the Italian island of Lampedusa: They will still be taking the shortest path.
Sarkozy's comeback is hardly going to achieve much electorally or have any effect on the thinking of current European leaders. Still, it's nice to see: France needs some healthier political disruption than the Le Pen kind.
This column does not necessarily reflect the opinion of Bloomberg View's editorial board or Bloomberg LP, its owners and investors.