One Primary Just Foretold the 2016 Race
If you want to know how the Republican primary will play out in 2016, look to Georgia.
by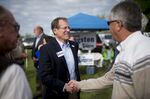 Before you conclude that New Jersey Governor Chris Christie or former Florida Governor Jeb Bush or some other alleged "moderate" can't win the presidential nomination of a party as conservative as today's Republicans, consider what happened in Georgia this week.

Tuesday's Republican primary for Senate is now headed for a runoff between the two most establishment-oriented candidates, Representative Jack Kingston and businessman David Perdue. Karen Handel, a former Georgia secretary of state who is generally considered a more conservative candidate, came in third. And two even more conservative candidates, Representatives Phil Gingrey and Paul Broun, came in fourth and fifth, respectively.
It was clear for months before the vote that neither Broun nor Gingrey was at all likely to do well. Yet these facts didn't cause either man to drop out or either man's supporters to abandon him. The geographic pattern of votes suggests that if Gingrey had left the race, Handel probably would have made the runoff.
Look for this dynamic to repeat itself as the Republican presidential primaries unfold in 2016. The Georgia primary electorate is pretty conservative, but if the right wing of the party is relatively fractious, a more moderate candidate can win. That's what has happened in the presidential-nomination contests of the last generation -- think of the triumphs of John McCain and Mitt Romney -- and that's what happened in Georgia, too.
Although the most conservative elements of the party can't deliver the presidential nomination to one of their own, they can set the party's ideological direction. That, too, seems to have happened in Georgia, with little policy space remaining between the candidates by the end of the race. That pattern will probably recur in 2016 as well.
The Georgia primary runoff is in nine weeks. That's a long time during which the Democratic nominee, Michelle Nunn -- a woman with a famous name and the full support of her party -- can watch her opponents fight each other.
Hillary Clinton may watch, too, with special interest.
This column does not necessarily reflect the opinion of Bloomberg View's editorial board or Bloomberg LP, its owners and investors.