Men With Guns Shoot Thailand in Foot
The fact that global markets, or even Asian ones, don't appear to be reacting today sends a powerful message to Thai army chiefs: The world may be writing off their economy.
by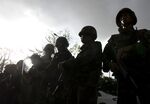 Perhaps the most interesting thing about Thailand's 12th coup since 1932 is how little the world appears to care. That's what should really worry the nation's 67 million, bitterly divided people.
The first concern, of course, is the fact that yet another gang of generals has begun ordering curtains for government offices. By this point, Thailand has seen so many power grabs that political scientists differ on the exact number. Even before yesterday's official seizure of power, before Tuesday's unilateral declaration of martial law, there was the judicial coup on May 7 that removed Premier Yingluck Shinawatra from office. The longer the stalemate between her government and royalist protesters in the streets of Bangkok dragged on, the more inevitable a coup has seemed.
But the fact that global markets, or even Asian ones, don't appear to be reacting today sends a powerful message to Thai army chiefs: The world may be writing off their economy. "Investors familiar with Thailand won't be losing any sleep over another military coup," says Simon Grose-Hodge, head of investment strategy for South Asia at LGT Group in Singapore. "However, it's a solid argument not to put any fresh money into Thailand when there are better risk/reward trades elsewhere, with India a good recent example and Indonesia potentially next."
The Land of Smiles fancies itself a tourist mecca and a well-positioned and capable production base for the Toyotas and Volkswagens of the world. Chinese companies have been eyeing fresh factories there as they expand overseas investment. But the political farce playing out in Bangkok puts all that potential at risk. Two years ago, Thailand was selling itself as a regional role model for Cambodia, Laos and Myanmar. Today, it's a cautionary tale for would-be democracies, who would be better off looking to Indonesia and the Philippines for lessons on how to progress and build a stable economy.
Thailand's growth-killing politics is also deeply damaging theAssociation of Southeast Asian Nations, or Asean, which met here in Manila this week to highlight the region's economic potential. The rather milquetoast Asean has a strict (and highly counterproductive) policy of non-intervention among its 10 members. Not that a communique lamenting the return of military rule would change the status quo in Bangkok, but this is a time for Asean to come together and condemn a coup that appears even less warranted than the others.
This is as big a blow to Asean as the Thai people. How does a neighboring government conduct trade or foreign policy with a country so prone to changing personnel at the very top, and so arbitrarily? How do investors make decisions? While Thai generals think they're acting in the interest of the motherland, all they're really doing is setting up opportunities for blood-on-the-streets trades for hedge funds.
A cynic might say Thais asked for this when they elected Yingluck in lieu of her fugitive ex-prime minister brother Thaksin Shinawatra.The real problem is that Thailand lacks strong and independent governing institutions to keep a rogue leader like Thaksin from bending an entire government to enrich his business interests. That void encourages any ragtag group of military men to grab power in the name of defending the nation.
In the meantime, Thailand's economic prospects sink. Asia is becoming a more dynamic and competitive by the day and not just because of China's rise. In 2015, ASEAN hopes to integrate its economies dramatically with lower tariffs and new infrastructure. How is that going to happen when leaders of one of the group's core nations are acting more like the Kim Dynasty in North Korea than America's founding fathers?
As hedge funds mull trading positions, companies and entire governments might put Thailandin cold storage on the grounds that it's incomprehensible. Uncertainty breeds a creeping lack of trust that will hit gross domestic product and deepen poverty. How else can the world respond when no one knows who the good guys are anymore? Are we really supposed to settle for colored T-shirts when it comes to figuring out what's afoot there? If Thais want to court a lost economic decade, that's their call. If half the nation wants to commit political suicide on behalf of corrupt billionaire Thaksin, they're more than welcome to do so. But it shouldn't be up to men with guns.
This column does not necessarily reflect the opinion of Bloomberg View's editorial board or Bloomberg LP, its owners and investors.