M&A Boom Has Yet to Help the Economy
Increased mergers and acquisitions activity has been great for financial investors, but not so much for the economy.
by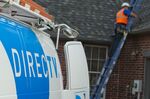 Merger-and-acquisition activity is back in a big way, as evidenced by AT&T's blockbuster move this week to acquire DirecTV. The cash companies are putting to work this year, though, is providing more immediate benefit to wealthy investors than it is to the broader economy.
In the years that followed the shock of the 2008 financial crisis, companies understandably sought to accumulate huge amounts of cash -- and remained quite loath to deploy it, even though it was earning virtually no interest at the bank. They also strengthened their balance sheets by paying off short-term debts, borrowing for longer periods and cutting back on costs.
Precautionary behavior was an important reason for the hoarding -- after all, who knew when another credit crunch might come? But it also has other explanations. As I argued earlier this year, weaker global growth, tax policy uncertainties and the increasing "winner-take-all" nature of major investment commitments all played a role. Judging from the amount of cash held overseas, companies' unwillingness to pay repatriation taxes also mattered.
More recently, pressure from shareholders -- including the threat of activist involvement -- has prompted companies to change their cash management practices. In 2013, they did so by authorizing an unprecedented $600 billion in share buybacks, as well as increasing dividend payments. Then came this year's notable pickup in M&A activity, including record-setting "jumbo deals" of at least $10 billion each.
On the surface, the deployment of cash should be good news for the real economy. Unfortunately, the manner in which it has happened isn't yet supportive enough for growth and jobs.
So far, financial investors have been the big winners. When companies were accumulating cash and fixing their balance sheets, bondholders benefited from the decline in default risk. Equity holders gained, too, particularly when companies started giving back cash directly in the form of buybacks and dividends.
Meanwhile, the impact of buoyant financial markets on consumer spending, and hence on the broader economy, has been weaker than many -- including the Federal Reserve -- had expected. In the process, inequality has gotten worse, if only because rich households hold a disproportionate amount of financial assets.
The benefit of increased M&A activity, too, is going largely to financial investors so far. True, the real economy can gain if such corporate actions provide a strong foundation for investments in facilities, equipment and people, rather than just exploiting cost synergies. That is not yet the case for the majority of mergers.
The hope is that the current M&A phase will soon hand off to a new one in which companies feel a lot more comfortable deploying their cash directly for physical investments and greater hiring. This will eventually happen. But with government policy still constrained by congressional dysfunction, it won't come before a further increase in wealth inequality.
This column does not necessarily reflect the opinion of Bloomberg View's editorial board or Bloomberg LP, its owners and investors.