How to Turn Homes Back Into Piggy Banks
The demise of a bipartisan plan to reform U.S. housing finance presents an opportunity to do things right.
by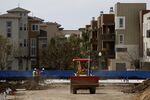 A bipartisan effort to address one of the biggest issues left over from the financial crisis -- what to do with mortgage-finance giants Fannie Mae and Freddie Mac -- appearsto have died in the Senate. Its demise should be seen as an opportunity to reframe the discussion of housing and the role it can play in the creation of wealth for Americans.