How Foreign Is Google's Foreign Cash?
Google says it is going to spend $30 billion on overseas acquisitions. Some of the money, however, might really go toward buying U.S. companies.
by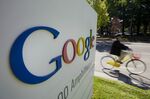 The foreign strategy that Google Inc. has used to justify keeping billions of dollars in cash overseas, out of the reach of U.S. tax authorities, might not be as foreign as it seems.
In a 2013 filing published this week, Google said that at the end of 2012, it had $33 billion of undistributed foreign earnings. The company explained that it needed to hold the money abroad for foreign acquisitions. Actually, it's entirely possible that the foreign cash could effectively be used to buy companies in the U.S.
U.S. companies such as Google, Apple Inc., Microsoft Corp., International Business Machines Corp., Pfizer Inc. and Hewlett-Packard Co. have good reason to hold a combined $800 billion in cash offshore: If they bring it back to the U.S., they'll have to give up roughly a third to the government as taxes.
Even for an acquisitive company such as Google, though, spending $20 billion to $30 billion on foreign targets is a stretch. According to the most complete publicly available list of Google deals, 41 out of 153 total acquisitions have been outside the U.S. There was no discernible shift toward buying foreign companies after Google announced its intentions for its foreign cash. Indeed, the company's stated rationale for focusing on foreign targets -- an expansion into the mobile devices business, where many participants are non-U.S. companies -- disappeared when it agreed earlier this year to sell its mobile phone business to Lenovo Group Ltd.
Another of Google's rationales for keeping money abroad is still valid, though: Even when it buys companies in the U.S., it needs foreign funds to acquire the technology rights that those companies hold abroad. This is an important point: Technology companies, including Facebook Inc., Microsoft and Google itself, keep a lot of intellectual property offshore as part of a tax-minimization mechanism called the Double Irish with a Dutch Sandwich. It involves parking technology rights with a Bermuda company that pays zero corporate tax, then licensing it to an Irish company that pays the Caribbean licensor through a Dutch shell.
The smaller U.S. companies that Google tends to acquire might use similar tax-minimization structures. Nest Labs Inc., for example, was thinking of opening a Dublin office when Google bought the maker of smart thermostats and smoke detectors. As Irish Prime Minister Enda Kenny said in February in defending a decision by Yahoo! Inc. to move its European office from Switzerland to Ireland, "We have all of these companies in Ireland and the cluster impact creates its own energy and its own dynamism and its own structure."
As long as the tax schemes are legal, there will never be any need for an acquisitive company such as Google to repatriate cash for the purpose of buying U.S. companies. It can pay a token amount in the U.S. and the bulk of the rest overseas for technology rights. We don't know how many times Google has already done that and with which companies: Its Double Irish setup is not particularly transparent.
EBay Inc. announced last month that it was moving $9 billion back to the U.S. and taking a $3 billion tax charge on it. The company explained the move by saying it needed more flexibility in acquisitions. Perhaps eBay ought to take a closer look at its international tax strategy -- or the U.S. and its tax climate for tech companies.
This column does not necessarily reflect the opinion of Bloomberg View's editorial board or Bloomberg LP, its owners and investors.