Colleges Are Wimping Out on Speakers
In years past, there was controversy, but seldom were speakers disinvited.
by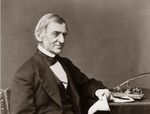 University commencement ceremonies have made news this season. Some speakers withdrew after students protested; others were "disinvited" by administrators eager to avoid controversy.
Although "disinvitations" and "no-shows" had been extraordinarily rare, over more than three centuries, graduation ceremonies have featured outside speakers who sometimes courted controversy.
In 1838, for example, Ralph Waldo Emerson delivered a speech to the graduating class of the Harvard Divinity School after several students invited him to share the stage. Emerson was a heretic, having abandoned his Unitarian faith for the ethereal, individualistic doctrine known as transcendentalism.
He pulled no punches, and his address attacked organized religion at its core. The Christian Examiner later sputtered that Emerson's "notions, so far as they are intelligible, are utterly distasteful to the instructors of the school." Others were less tactful, declaring the address "tainted with atheism" and a "species of pantheism."
But the students didn't seem to mind, or if they did, they let Emerson speak without incident. Indeed, the negative reaction to Emerson's speech was largely confined to faculty and administrators, who swore they would maintain a "veto" over future student choices.
In succeeding decades, Harvard and other schools made good on this threat. In the 1850s, students at Williams College invited Emerson to commencement three times, only to have the administration deny him space to speak. The students commandeered buildings outside of campus and hosted him anyway.
By the 20th century, a subtle shift had taken place. Increasingly, it was students, not faculty or administrators, who lodged complaints about commencement speakers. Yet with rare exceptions, they failed to force administrators to withdraw invitations, much less deter speakers from visiting campus.
In 1932, General Douglas MacArthur was the commencement speaker at the University of Pittsburgh. Pacifist students protested his appearance, but the show went on. "Pacifism and its bedfellow, communism, are all about us," MacArthur declared. "Day by day this canker eats deeper into the body politic."
A rare instance of the withdrawal of a speaker occurred in 1934, when a commencement organizer invited his former classmate, Ernst "Putzy" Hanfstaengl, to participate in the festivities. Hanfstaengl, a Harvard grad, had become one Adolf Hitler's closest confidants. After a student labeled him a "representative of a government which considers the intellectuals the dirt of the earth and free speech a rank poison," Hanfstaengl declined the invitation.
But in general, speakers invited to campus kept their word, and administrators rarely bowed to political pressure. This was true even in the 1960s, when protests raged over the Vietnam War, the draft, the Civil Rights movement and a host of other issues. Students walked out of graduation ceremonies, booed speakers, picketed, and, taking a page from Emerson, held their own "rump commencement" ceremonies off campus.
Even so, the show went on. Defense Secretary Robert McNamara, considered the architect of the escalation of the Vietnam War, accepted honorary degrees at Amherst College and New York University, despite a chilly reception. (More than 100 students walked out in New York, though McNamara praised the "orderliness" of the protests.)
While McNamara made himself scarce the following year, and other advocates of the Vietnam War tended to lie low in the late 1960s, some semblance of debate continued. In 1969, at Wellesley College, Republican Senator Edward Brooke sharply criticized student protests. The president of the graduating class, Hillary Rodham -- yes, that one -- delivered a rebuttal that Brooke described as "very charitable."
What's striking in this era was the extent to which both sides in these debates were willing to appear before often hostile audiences. But in the succeeding years, something changed. The turning point may have been in 1980.
That year, Vassar invited conservative William F. Buckley to deliver a commencement address. He withdrew in a huff after 301 of 560 seniors signed a petition protesting his visit.
"The majority of the senior class at Vassar does not desire my company," he wrote, "and I must confess, having read specimens of their thought and sentiments, that I do not desire the company of the majority of the senior class at Vassar."
Things went downhill from there. Sadly, it seems that it no longer takes a majority of students to deter speakers from coming. At Haverford College this season, a mere 40 students and a strongly-worded demand to apologize prompted Robert Birgenau, the former chancellor of the University of California at Berkeley, to withdraw as a speakers. Elsewhere, administrators have rescinded invitations before things got too controversial.
Please. Regardless of their politics, craven administrators and fearful speakers need to rise to the occasion. Emerson's commencement address from 1838 might help.
"Speak the very truth, as your life and conscience teach it," Emerson counseled the audience, "and cheer the waiting, fainting hearts of men with new hope and new revelation."
This column does not necessarily reflect the opinion of Bloomberg View's editorial board or Bloomberg LP, its owners and investors.
To contact the author on this story:
Stephen Mihm at smihm1@bloomberg.net
To contact the editor on this story:
Max Berley at mberley@bloomberg.net
Before it's here, it's on the Bloomberg Terminal.
LEARN MORE