Tea Party Loses in Atlanta. So Does Baseball.
Last night's wave of Tea Party losses in Republican primary elections might be good news for the country but bad news for Cobb County, Georgia, and fans of the Atlanta Braves.
by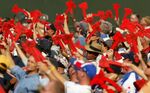 Last night's wave of Tea Party losses in Republican primary elections might be good news for the country but bad news for Cobb County, Georgia, and fans of the Atlanta Braves.
Establishment challenger Bert Reeves defeated incumbent State Representative Charles Gregory in Georgia's 34th district, a blow for advocates against publicly financed sports stadiums. Tea Party-backed Gregory had been a vocal opponent of the Braves' plan to abandon Turner Field and relocate to a new, taxpayer-funded, $672 million stadium in an edge city about 10 miles from downtown Atlanta. The county would be on the hook for $300 million, or 45 percent, of the cost, spending $24 million on infrastructure improvements and selling $276 million in bonds for construction.
The Cobb Braves stadium has been criticized by fans and politicians alike who don't see the need for a new ballpark further from the city center that would be even less accessible by public transportation than Turner Field, which opened in 1997 and is thus younger than every single player in both the major and minor leagues. The negotiations for the new stadium were conducted in secret, leading to calls for increased transparency, and some feel that the move is racially motivated; at a time when most teams are building ballparks closer to downtown, the needless shift away from a majority-black city to its mainly white suburb is rather suspect.
It's also been a particular target of the Atlanta Tea Party, which has found its interests unexpectedly aligned with the supposedly progressive stance against corporate welfare. Gregory, who has served in the state House of Representatives since 2012, took particular issue with the stadium deal, invoking it in his campaign to draw a stark contrast between himself and his Republican party-line challenger. While he blasted the ballpark as "legal plunder," Reeves extolled the virtues of the public-private partnership as a means of "economic growth and jobs."
Unfortunately, as Jonathan Mahler pointed out back in December, the promise of prosperity borne by a ballpark is a myth that very rarely delivers. No matter, though, because the ploy worked: Reeves took 52 percent of the vote last night in Georgia's 34th, which had been at the forefront of the broader Tea Party movement. As establishment Republicans have been doing for decades, Reeves tricked the little guy in to believing the big lie. On Monday, around 80 local businesspeople turned up in support of the Cobb County stadium, cooing about "how lucky we are" to have a shiny, new ballpark around which their establishments may now flounder. (They seemed to have also missed the part of the deal that will levy taxes on businesses around the ballpark to provide for some of the county's annual debt payments.)
Yesterday, Baseballot's Nathaniel Rakich touted the Tea Party as our unlikely savior from unnecessary and unwanted stadiums paid for by our tax dollars, the one issue capable of uniting radical liberals and radical libertarians against the conservative base. By fostering equal skepticism in Big Government and Big Business, that goal could still be achieved -- just not in Georgia.
This column does not necessarily reflect the opinion of Bloomberg View's editorial board or Bloomberg LP, its owners and investors.