Microsoft Finally Gets the Tablet Right
The Surface Pro 3 marks a big step forward in Microsoft's highly public trial-and-error quest for a category-redefining device. It's a more honest approach than secretive Apple's.
by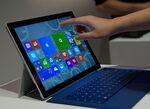 Microsoft Corp.'s Surface Pro 3 isn't just another new tablet. It is also an impressive demonstration of the value of perseverance and part of a contrarian strategy that may yet pay off.