Brazil's World Cup Trouble
Brazil's World Cup difficulties are strikingly similar to those holding back the country's entire economy.
by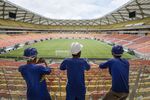 Brazil is racing furiously against time to deliver a World Cup tournament commensurate with its global standing as a leader in the planet's most popular sport. The challenges it faces in doing so are strikingly similar to those that are holding back the country's entire economy.
In 2007, Brazil prevailed with flair over other Latin American countries in its bid to host the 2014 World Cup. Pride and jubilation extended well beyond the soccer-crazy nation of 200 million. What could be better than holding the tournament in the country that produced Pele, Kaka, Ronaldinho and Ronaldo? Brazil has qualified for every World Cup ever held and won five times -- the only country ever to do so on both counts.
On the economic front, a well-executed World Cup once had the potential to solidify the gains Brazil has made since its 2002 financial crisis. It would have signaled loudly, using a global megaphone, that the tired old phrase about Brazil -- "It's the country of the future. Always has been, always will be" -- no longer applied.
Sadly, Brazil's efforts have so far been undermined by slippages that are all too familiar to its citizens. Chief among them is the inability to turn brilliant design into durable reality, a phenomenon that is particularly prevalent in the country's approach to comprehensive economic reforms. Accountability has been poor, implementation uneven, verification incomplete and efficiency highly inconsistent.
The World Cup setbacks echo the obstacles that prevent Brazil from fulfilling its considerable economic potential. Having impressively stabilized the broader economy after its 2002 crisis and regained a favorable growth path, the country has balked at the much more detailed microeconomic measures needed to maintain solid performance. They include streamlining inefficient tax rules, reforming a malfunctioning pension system and improving labor legislation that severely limits workers' and companies' flexibility.
Aside from their effect on the nation's financial and economic well-being, such slippages have fueled popular resentment on a second issue: public spending. Numerous studies have demonstrated questionable expenditure decisions by an increasingly well-entrenched and growing public sector that is also prone to a regrettable amount of waste.
The resulting erosion of growth is particularly regrettable for a country that still suffers poverty and economic inequality, and helps explain protests, social unrest and security concerns. No wonder Brazilians regard the upcoming World Cup with ambivalence and apprehension despite their love of soccer.
The World Cup difficulties are illustrative of another, more general tendency in Brazil: Its failure to consistently assert its edge internationally. Rather than harnessing the global economy to its benefit, the country has seen its economy disrupted by volatile flows of foreign hot money, and it hasn't sufficiently integrated itself into world trade.
Fortunately, there is still time for Brazil to deliver a superb World Cup. If it can do so, perhaps this would also serve as a catalyst -- to seize the opportunity to realize its huge economic potential.
This column does not necessarily reflect the opinion of Bloomberg View's editorial board or Bloomberg LP, its owners and investors.