What to Look for on Primary Day
Today's primaries may be more important than exciting.
by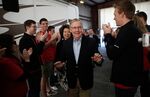 Six states hold primary elections today. As Nate Cohn said in his useful analysis, "Not much matters six months before a midterm election, but Tuesday's primaries are an exception."
So what to look for?
Republicans are choosing U.S. Senate candidates in the two contests, Kentucky and Georgia, where Democrats think they have a chance to pick off Republican seats this cycle. Majority Leader Mitch McConnell should easily survive a Tea Party challenge, and the two weakest (or perhaps a better word is "riskiest") Republican candidates appear headed for defeat in Georgia. At the same time, McConnell and the more likely Republican victors in Georgia have been pushed to take Tea Party positions across the board. In other words, it appears Republicans will avoid an own-goal similar to nominating Richard Mourdock or Todd Akin. But Democrats's uphill climb is a bit easier than it would have been without divisive Republican primaries.
Georgia Republicans are probably headed for a run-off, with polling showing David Perdue likely to face either Jack Kingston or Karen Handel. But multi-candidate primaries can be highly volatile. One way or another, expect more struggles before the eventual Republican nominee can focus on the general election. (Democratic candidate Michelle Nunn has had an easier time thus far.)
Meanwhile, some late-breaking news has made a sleepy Republican Senate primary in Oregon a bit more interesting. Oregon appears to have a safe Democratic incumbent right now, but the state could become competitive in the event of a national Republican wave. Instead, we may get a seminar on the dangers of mail-in elections. A scandal broke out in the final days of the primary, which might have posed a big threat to Republican candidate Monica Wehby -- except that probably more than half the votes have already been cast.
Beyond that, there are a number of interesting House primaries today. Politico's James Hohmann covers some, and points to other developments to watch.
One key reminder: We are naturally drawn to the "news" -- whatever is uncertain or unexpected. But it's also worth pulling back to view the larger picture. For example, Arkansas Republicans today will nominate Representative Tom Cotton, widely seen as the strongest available challenger to incumbent Democratic Senator Mark Pryor. There's no "news" in that because Republicans successfully cleared the field for Cotton, enabling him to focus on the general election. And Pennsylvania Democrats will almost certainly nominate gubernatorial candidate Tom Wolf, who already has a large polling lead against incumbent Republican Governor Tom Corbett.
So even though today appears to be a bit of a dud in terms of exciting contests, the lack of suspense shouldn't fool us; important stuff is happening. Parties define themselves through nominations. Even when those nominations don't affect party balance of power in legislatures, the individuals we send to the House, Senate and statehouses really can make big differences.
This column does not necessarily reflect the opinion of Bloomberg View's editorial board or Bloomberg LP, its owners and investors.