Unskewing Manhattan Real Estate
The numbers showing that 80 percent of all Manhattan real-estate deals are for cash don't hold up.
by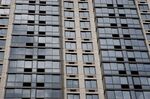 Yesterday, we directed our ire at bad automobile data. Today, its housing's turn.
I was running through my early morning sites one day last week in preparation for preparing my daily reads posting, when I saw this headline at the Washington Post: ``8 in 10 Manhattan home sales are all-cash.''
That can't possibly be right, can it? It struck me as way off the data I'm familiar with in New York City. Anecdotes are never a substitute for hard data, but this headline failed my sniff test.
Whenever I am stymied by a housing question, I reach outto Jonathan Miller, of Miller Samuel. He is my rabbi for all things residential real estate. He too thought the numbers were off, and came up with a reason why:
The reason the Realtytrac 80% figure jumped out at me was the fact that co-ops account for about 60% of sales and have the highest concentration of entry level and middle class demographics in Manhattan. I was very skeptical that virtually all the market-majority co-op buyers were paying all-cash, especially in the tepid economy we are stuck with.

The data Miller uses show that Manhattan all-cash home sales weren't 80 percent of residential sales -- they were 45 percent. Allow me to explain how Miller computed that more credible number.
First, given that the numbers looked off to him also, Miller contacted RealtyTrac, the original source of the strange numbers. They too had noted that something smelled fishy and were re-running their data.
As it turns out, sales of non-co-op homes in New York City skew much more expensive than the rest of the country ($855,000 median price) and a larger portion are all cash. Not 80 percent, but somewhat higher than you might have guessed. In Manhattan, 61 percent of condo sales were cash-only deals last quarter. In the single-family home segment in Manhattan, meaning townhouses, the number was even higher at 73 percent.
However, co-ops tend to be bought by more middle-class or upper-middle-class buyers than townhouses and condos. All-cash purchases were but 36 percent of Manhattan transactions. That isn't all that far off from the national median for all-cash purchases of single-family homes. According to the National Association of Realtors, "all-cash sales comprised 33 percent of transactions in March, compared with 35 percent in February and 30 percent in March 2013."
As Miller told the New York Times in 2012, co-ops are far more prevalent than condos: "In Manhattan, it's about 75 percent co-op versus 25 percent condo. In the early 1990s, it was about 80/20, and in the mid-1980s it was 85/15."
Figuring the appropriate volume weight of each of the three segments is how Miller got the 45 percent number.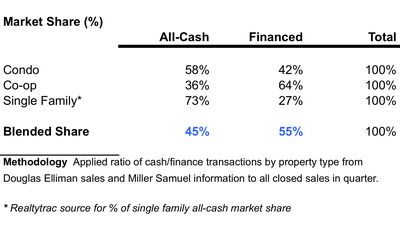 Yesterday's takeaway was to not trust unknown e-mails or websites that have an ax to grind. Today's lesson is that if the data looks or smells funky, you better check it out. In this case, we end up with a number that's just a little more than half the amount originally advertised.
ERRATA: Speaking of errors, in yesterday's column about the reliability of information found on the Web, I originally attributed the following quote to Mark Twain: "A lie can travel half way around the world while the truth is putting on its shoes." The actual source is British pastor Charles Spurgeon. My apologies for the error. Bartlett's Book of Quotations is now installed on my desk and my laptop. The mistake of verifying a quotation on the Internet will (hopefully) not be repeated.
This column does not necessarily reflect the opinion of Bloomberg View's editorial board or Bloomberg LP, its owners and investors.