Uber Is a $10 Billion Speed Bump
The real possibility that these companies can "disrupt" the concept of car-buying by making access a real alternative to owning is a compelling story. But news that Uber is angling for a valuation of more than $10 billion in talks with Wall Street raises the specter of Tesla-style overenthusiasm.
by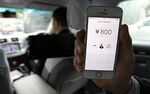 Over the last 40 years, cars on the U.S. market have gained about 100 horsepower on average, while simultaneously improving fuel economy by 10 miles per gallon and adding previously unimaginable creature comforts, reliability and safety features. But compared to the advances in computing and communications over the same period, the car's impressive engineering accomplishments seem pretty pedestrian. As the term"disruption" is increasingly thrown around, the reality that the car hasn't fundamentally changed in a century seems to be weighing on the minds of many. A wave of public and political enthusiasm for all kinds of electric car projects, beginning in the mid-2000s and culminating in the market's messianic fervor for Tesla, was the first sign of this great expectation.