Thais Must Choose Ballots Over Bullets
For his Thai opponents, there is no military solution to the problem of Thaksin Shinawatra. Every time soldiers step up to restore order in the short run, they set back Thai democracy in the long run.
by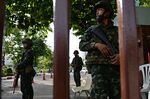 It's time for Thailand to make a decision: the ballot or the bullet?