Oligarch's Ex-Wife Earned Her $4.5 Billion
The wife of Russian billionaire Dmitry Rybolovlev has won what may be the biggest divorce settlement in history. And she fared much better than other oligarchs' wives.
by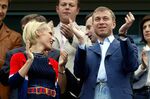 The $4.5 billion divorce settlement Elena Rybolovleva has obtained from her husband, Dmitry Rybolovlev, may be the biggest in history -- it certainly is in Switzerland, where a court ordered the payout -- but Rybolovleva had to sweat for it. Her relentless eight-year hunt for the potash billionaire's assets took her all over the world. She was even arrested in Cyprus and accused of stealing a $25 million ring, then freed after she proved it had been made to measure for her.
Her triumph is a hopeful sign for other Russian women whose husbands owe their fortunes at least partly to their wives but are unwilling to share it equitably when the marriage breaks up. There have been quite a few notable cases.
Roman Abramovich, whose fortune the Bloomberg Billionaires Index estimates at $14.5 billion, married flight attendant Irina Malandina in 1991, when he was still looking for a business in which to get seriously involved. His ventures then ranged from tire retreading to publishing. It was only in 1993 that he found a way to get into oil. His role as unofficial treasurer for former Russian President Boris Yeltsin's family, his billion-dollar deals, his governorship in the remote region of Chukotka and his purchase of Chelsea FC, one of England's best soccer teams, followed. In 2007, Abramovich traded Irina, who had given him five children, for model Darya Zhukova. All Irina got from a Russian divorce was $300 million.
Vladimir Potanin is also worth $14.5 billion, but when his Russian divorce from his wife, Natalya Potanina, with whom he has three children, became final in February, all she got was about $240,000 a month in alimony. Potanina has not yet gone after the billionaire's global assets. She may not be prepared to get entangled in a legal effort to unravel Potanin's network of corporate shells.
In a particularly egregious case, Alexei Mordashov, who is worth $12 billion today, divorced his wife of 10 years, Elena, in 1996, when he was already chief executive and majority owner of Severstal, the steel company at the base of his fortune. He left her an apartment in the factory city of Cherepovets in northern Russia and an old Russian-made car. He also agreed to pay $200 a month (yes, two hundred dollars) in child support for his son and contribute $600 more once a year, in addition to a one-time payment of $54,000.
In 2001, Elena Mordashova sued him for half of his pre-divorce property but lost in the courts, securing only an unspecified but higher amount of support. One of the courts -- in Cherepovets, practically Mordashov's feudal seat -- ordered the billionaire's ex-wife to pay a fee of about $6 million, a portion of her claim. She managed to get the fee reduced to about $340,000, but she still did not have the money. Bailiffs hounded Mordashova for it until she took the case to the European Court of Human Rights; the matter was quietly settled.
In all these cases, the women played the traditional role of keeping a home and raising a family while their husbands dove into the stormy seas of 1990s Russian business. These were marriages made before fairy-tale wealth descended on the couples. Rybolovlev married his Elena when they were both in medical school, planning on living their lives as Soviet doctors. They had never even heard of potash or dreamed of living in ultrarich Cologny on Lake Geneva.
When the money came, most of the marriages -- with the exception of Mordashov's -- endured even that for years.
How much is a woman's contribution to a man's life worth? "It was I who got up at four and five a.m. to make him breakfast. I who woke him up and saw him to the door," Mordashova wrote in a 2001 open letter "to all women." "It was I who waited for him at home till all hours. I who stood by the window at night fearing the worst after criminals threatened him. ... I who prayed to God that Alexei stayed alive."
Research shows that married individuals achieve greater career success than unmarried ones, but it's hard to calculate a spouse's contribution to the making of a fortune. Would Mordashov still be a billionaire without those breakfasts and prayers? Probably so.
A divorce settlement, however, is not payment for work done. It should reflect the fact that the billionaires' wives shared their husbands' considerable early risks and stood by them in scary situations. In 1996 and 1997, Rybolovlev was jailed on trumped-up charges of arranging a contract killing: Mobsters in his hometown of Perm had objected to his decision to switch to a different exporter for his fertilizer company. Elena Rybolovleva stuck with him.
Now a Swiss judge -- not a Russian one, notably -- has given her almost half her ex-husband's $10.3 billion fortune. He will fight to reduce it, but for the moment Rybolovleva has been recognized as an equal partner in the making of that fortune. That's what she was, and what all these women were.
This column does not necessarily reflect the opinion of Bloomberg View's editorial board or Bloomberg LP, its owners and investors.