Credit Suisse Is Going to Jail
I'm planning to visit as often as I can, and send it little care packages filled with toxic securities.
by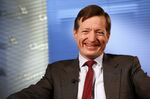 Pretty soon I'm going to stop complaining about how dumb it is to make Credit Suisse plead guilty to criminal tax-evasion conspiracy, not only because it is boring but also because everyone agrees. If you're a critic of bank impunity, you think this is dumb because no top executives will go to jail, 1 or even be fired, and really there are no negative consequences beyond what you'd get from civil charges or a deferred prosecution agreement. 2 If you're a defender of banks, you worry that the Justice Department has missed some unintended consequences, and that Credit Suisse's guilty plea will cause a colossal and accidental financial crisis.
Either way, the point is that the only consequences of the guilty plea -- as opposed to a deferred prosecution, etc. -- are the ones prosecutors forgot. Those consequences might be catastrophic, or they might be nonexistent, but if they exist, they exist because no one thought of them. It's deterrence by accident: Prosecutors did their best to avert everything bad that might come from a guilty plea, but the deterrence value comes from the fact that their best might not be enough.
So far though it seems to be fine. The stock is up, and chief executive officer Brady Dougan is positively cheerful: "Our discussions with clients have been very reassuring and we haven't seen very many issues at all." You might worry about what that will do for the deterrence value of criminal prosecutions? 3 In this age of banks paying fines all the time, the takeaway here might be that if you haven't been indicted, you've been too conservative.
Mostly though this feels like a pointless stunt. I mean, honestly, there's something to be said for making Credit Suisse plead guilty. Credit Suisse did bad stuff! Dumb, bad stuff. The Statement of Facts accompanying the plea agreement is the sort of thing where, if the Justice Department had decided to demand not a symbolic guilty plea but a revoke-the-charter, shut-the-place-down sort of guilty plea, you'd have to say, yeah, I mean, I get it. The main thing is:
For decades prior to and through in or about 2009, CREDIT SUISSE operated an illegal cross-border banking business that knowingly and willfully aided and assisted thousands of U.S. clients in opening and maintaining undeclared accounts and concealing their offshore assets and income from the IRS. CREDIT SUISSE, through certain of its managers, employees, and others, solicited U.S. clients to open undeclared accounts because Swiss bank secrecy would permit them to conceal the U.S. clients' ownership of accounts at CREDIT SUISSE.
A few bad actors blah blah blah, but there's a case to be made that the core of Credit Suisse's wealth management proposition in America was tax avoidance. And it goes on from there; even after 2009 Credit Suisse was not playing what you'd call ball. 4 Getting really mad at them would be understandable.
But the Justice Department isn't really that mad, and that's understandable too: Sure there were a lot of bad actors at Credit Suisse, but there are a lot more good ones, and shutting down a bank that employs 46,000 people and has almost a trillion dollars of assets is not something that you'd do lightly.
What feels so stupid about these charges is that DOJ is talking such a tough game while proceeding so mildly. The stunt is the meal that the Justice Department has made of these charges, which were announced by Attorney General Eric Holder himself, with this bit of boasting:
This case shows that no financial institution, no matter its size or global reach, is above the law. When the Department of Justice conducts investigations, we will always follow the law and the facts wherever they lead. We will never hesitate to criminally sanction any company or individual that breaks the law. A company's profitability or market share can never and will never be used as a shield from prosecution or penalty. And this action should put that misguided notion definitively to rest.

Ahh sure okay whatever definitely. After months of leaking stories about how it was hesitating to bring criminal charges against companies because of their size and global reach, the Department of Justice wants everyone to know that it would never hesitate to bring criminal charges against companies because of their size and global reach. 5
Who are they trying to fool, and about what? Honestly I don't know; it is possible that I am too close to this. If you follow financial news, if you've read all the lead-up stories about how prosecutors have tried to avoid any negative consequences of a guilty plea, if you have some understanding of the law, this all looks like just a bafflingly stupid charade. Why not just get a deferred prosecution agreement, preserve the scary deterrence value of criminal charges, and avoid the small but awful risk of accidentally destroying an important global bank?
But I suppose if you haven't been paying attention, and one day you come upon a headline like "Credit Suisse Pleads Guilty in Felony Case" or "Credit Suisse Plea Sends Warning to Banks Under Scrutiny," you might be pretty impressed with the Justice Department's assertiveness? The words "guilty plea" don't, as a matter of law or deterrence, have magical powers that the words "deferred prosecution agreement" lack. But they look a lot better in headlines.
I guess the Justice Department often does things motivated more by public relations than by the public interest. 6 But that grandstanding instinct is usually less transparent than it is here, where there's been a long and very public build-up to a criminal indictment that is hard to explain as anything other than a public relations stunt. I suppose it might be good PR, but at least for those who have been paying attention, it's not a good look.
To contact the author on this story:
Matthew S Levine at mlevine51@bloomberg.net
To contact the editor on this story:
Toby Harshaw at tharshaw@bloomberg.net
Before it's here, it's on the Bloomberg Terminal.
LEARN MORE