Congratulations on Buying Russian Bonds
People who bought Russian bonds right after S&P downgraded the country have made out like bandits, and yields may drop further as the situation in Ukraine deescalates.
by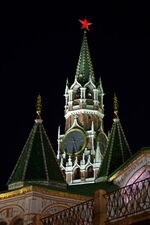 Reading the news these days, it's easy to conclude that Russian debt is turning toxic. Quite the contrary: Those who bought the government's 4.875 percent bonds on April 25, when Standard & Poor's cut Russia's credit rating to a notch above junk, have made good money. Prices, moreover, may head higher still as investors realize that Russia is done with escalation in Ukraine.
"People used to ask how much Greece you had in your funds. Now they're going to ask how much Russia you have," the Financial Times quotes Sergio Trigo Paz, who manages emerging markets debt funds at BlackRock, as saying. Trigo Paz said his funds had sold the Russian bonds they owned. Franklin Templeton, where star fund manager Michael Hasenstab made a large bet on Ukrainian debt, also offloaded Russian bonds in the first quarter.
These decisions don't reflect a judgment about Russia's ability to meet its obligations to creditors. Purely economic indicators such as Russia's debt-to-GDP ratio (a minuscule 7.9 percent) or foreign reserves ($472 billion, 20 months of imports) show that the country is eminently creditworthy. The threat of Western sanctions, however, makes it possible that investors may not be able to get their money back. Corporate bonds look especially risky because the owner of any Russian company can be hit with unexpected personal sanctions, making businesses vulnerable to asset freezes and payment difficulties. Sovereign debt may not be redeemed and interest payments delayed if Russia is cut off from global payment systems. To compliance officers at investment companies, these are all serious risks.
Suppose, however, those concerns are overblown? In recent days, the Kremlin has done its best to signal it would not interfere with Ukraine's presidential elections, scheduled for May 25. President Vladimir Putin asked separatists in eastern Ukraine to put off secession referendums, and when they, predictably, disobeyed, Russia made no move to recognize the farcical votes' results. Russia has stated repeatedly that it is pulling back troops from Ukrainian borders and, while the U.S. has countered that there are no signs of an actual pullback, Moscow keeps insisting that it's happening.
At the same time, a widely quoted, seemingly impartial report by emigre Russian journalist Oleg Kashin shifted blame for the participation of Russian militants in the separatist rebellion to nationalist organizations funded by telecom investor Konstantin Malofeev, rather than Moscow. The Russian participation in the bloody events in Donetsk, Lugansk and surrounding regions was always designed to be deniable, and while Kiev keeps insisting that the separatists are directed from Russia, proof is scant. The Russian field commanders, for their part, are doing their best to back up the freelance version of the story: The best known of them, Igor Girkin who is known as Strelkov, issued a desperate appeal to his supporters on YouTube, saying he was short of fighting men.
For his part, Rinat Akhmetov, Ukraine's richest man and de-facto feudal lord of the insurgent Donbas region, who kept quiet throughout most of the conflict, has issued a strongly worded statement condemning separatists for "looting in cities and kidnapping peaceful citizens". Akhmetov has strong business ties in Russia and favors building a close relationship with Ukraine's eastern neighbor, and the fact that he is now willing to use his considerable influence to end the armed revolt probably means that he knows Moscow was not going to back it openly.
Taken together, all these signs suggest Putin is betting on de-escalation and further, truly painful sanctions against Russia will not be necessary. That in turn may boost Russian bonds.
I have said this before -- on April 25, when the S&P downgrade drove the yield on 10-year, dollar-denominated Russian bonds to a 2014 high of 5.69 percent. People who bought the bonds then have seen prices climb by 8.7 percent in less than a month:

The opportunity is almost gone at the current 4.6 percent yield; further de-escalation news may drive it even lower. Last October, the same bond traded at a 4.2 percent yield.
Knee-jerk political reactions do not make for the best investment decisions. JPMorgan Chase is the second-biggest holder of the 10-year Russian bond, according to data compiled by Bloomberg. In the first quarter, it more than doubled its holdings. Vanguard Group, the world's biggest mutual funds company, reported at the end of April that it had acquired a significant position in the bond. What must have felt like bold bets at the time are paying off.
This column does not necessarily reflect the opinion of Bloomberg View's editorial board or Bloomberg LP, its owners and investors.