Trade of the Day: Quit Trading, Join Academia
Trade of the Day: Time to quit the trading floor and head for an Ivory Tower, based on both pay AND hours.
by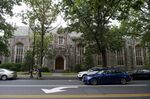 Nine presidents of public U.S. universities are making more than$1 million a year, Bloomberg News reports today. Meantime, in the world of finance, "being boastful, indiscreet and vulgar is not OK," according to Colin Fan, the co-head of investment banking at Deutsche Bank AG.
So the Trade of the Day is to quit your job as trader, and head to academia. You still might get that magical seven-figure salary and, as the chart below shows, your weekly hours are headed down, not up:
This column does not necessarily reflect the opinion of Bloomberg View's editorial board or Bloomberg LP, its owners and investors.