Deutsche Bank Is Asking a Lot of People for Money
A weird thing about going around to basically everyone you know and asking them for billions of euros, when you did something not too dissimilar a year ago, is, you know, what do you tell them?
by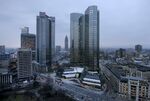 A story you could tell about global banking since the financial crisis is that banks, who had sort of lost themselves in the frenzy leading up to the crisis, have spent the last few years in deep introspection. They are learning who they are, and they are becoming more themselves. Deep down, UBS always knew it was a wealth manager, and Morgan Stanley is figuring out something similar about itself. Goldman Sachs, on the other hand, knows that fixed-income trading is at the core of its identity, and JPMorgan has looked into its heart and decided that being smirkily too-big-to-fail is a pretty good look.
If you had to describe the essence of Deutsche Bank it would probably be something like "comically over-levered universal bank," and today it embraced at least the second part of that description, reaffirming its commitment to investment banking and general bigness, despite difficulties that the presentation helpfully illustrated: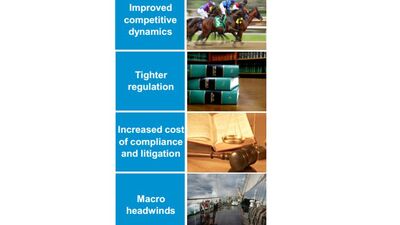 Deutsche Bank: Unfazed by horses, boats, closed law books and open law books.
But Deutsche is moving away from its core identity a little bit, by raising a pile of money to make its leverage meaningfully less comical. All in, Deutsche announced that it's raising about 11 billion euros in Tier 1 capital, which I guess doesn't sound like that much any more until you remember that Deutsche only has about 35 billion euros of Tier 1 capital now, and 1.6 trillion of assets. 1 So Deutsche Bank, which is now around 46 times levered, will soon be a svelte 35 times levered. 2
To raise money equal to a third of its current capital, Deutsche is using several of the by-now-standard methods. The main raise is a 6.3 billion euro rights offering for "up to 300 million new shares"; the Wall Street Journal reports that those shares are expected to be priced at around 23 euros each, so the actual number will be less than that. This is supposed to close in late June. There's also 1.75 billion coming from Qatar's Paramount Holdings, at a price that looks fairly generous to Deutsche.. 3
And there's about 3 billion euros in additional Tier 1 capital notes, contingent-capital securities that Deutsche will write down if its common equity Tier 1 ratio falls below 5.125 percent, and which delightfully can be written back up if the bank then recovers. 4 Here is the press release and roadshow deck for that offering, which was announced last month and delayed for a bit, but which is now in the "Execution Imminent" phase.
A weird thing about going around to basically everyone you know and asking them for billions of euros, when you did something not too dissimilar a year ago, is, you know, what do you tell them? Normally, when raising equity capital, you go out to investors and tell them an exciting story of what you're going to do with their money. Ideally, that story involves making a lot of money and giving them a cut.
Deutsche Bank has some things it wants to do with the new money; they strike me as a little afterthoughty and buzzwordy but they're on pages 28 to 31 here. "Accelerating focused growth strategy in US market," "Digital transformation of our retail model in Europe," "Investment in multinational corporations (MNC) coverage" and "Investment in capturing HNWI market share opportunities" are all on the table. But there are other, less exciting, potential uses: "Bears will question how much of the capital raise will be absorbed by legacy and litigation costs."
All in all, though, the plan is not to use this money, but just to have it around to make regulators and creditors and, sure, shareholders feel safer about Deutsche's capitalization. And making a lot of money is not particularly part of the story: "The bank said it will probably reach its 12 percent return on equity goal in 2016, a year later than originally planned, and reduced a profitability target for the investment bank." The sales pitch is basically that Deutsche is going to keep doing what it's doing, slightly less profitably, but with a lot more of its shareholders' money.
To contact the author on this story:
Matthew S Levine at mlevine51@bloomberg.net
To contact the editor on this story:
Toby Harshaw at tharshaw@bloomberg.net
Before it's here, it's on the Bloomberg Terminal.
LEARN MORE